No Justice for Breonna Taylor
Nayaba Arinde | 9/23/2020, 1:43 p.m. | Updated on 9/24/2020, 10:29 a.m.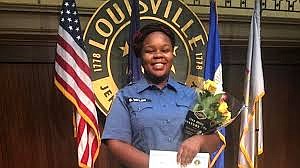 The announcement Tuesday, Sept. 22 that cops in Louisville, Kentucky had been told all leave was canceled and to show up to their precincts––and scenes of stores boarding up their windows in anticipation of continued civil unrest––was the hint some folk needed that the three main police officers in the Breonna Taylor case would not be charged with murder.
This fatal police action was one of the cases like the killing of George Floyd that led to the 2020 summer of unrest. Taylor was killed in a hail of 22 police bullets as they barged in to her apartment in the middle of the night March 13, reportedly looking for someone else.
On the afternoon Wednesday, Sept. 23 Kentucky's Attorney General Daniel Cameron announced that then-cop Brett Hankison, fatally shot Breonna Taylor and was indicted by a grand jury, but only on three counts of wanton endangerment in the first degree.
Not charged were the two other officers: Sgt. John Mattingly and Det. Myles Cosgrove.
For months protestors, activists, politicos and celebrities have demanded the arrests and murder charges for all of the officers involved. The streets were tense again after the announcement.
Demonstrators soon took to the streets in cities across the nation to protest the decision in Taylor's case. In Louisville, more than 100 people were arrested Wednesday during a night of civil unrest. Reports indicate the FBI is investigating after two police officers were shot during the demonstration.
In New York, hundreds gathered at the Barclays Center in Brooklyn to protest the decision. Demonstrators marched across the Manhattan Bridge and later the Williamsburg Bridge. A group also gathered outside Trump Tower.
Protests in the city were peaceful and no arrests were made.
"The loss of Ms. Breonna Taylor's life is a tragedy, and our office has worked tirelessly since receiving the case in mid-May to review all of the evidence in preparation for presenting it to an independent Grand Jury," said Cameron. "The Grand Jury determined that there is no evidence to support a criminal violation of state law caused Ms. Taylor's death. The Grand Jury found that there was sufficient evidence to indict Detective Hankison for wanton endangerment for firing his weapon outside a sliding glass door and through a bedroom window, with some bullets traveling through that apartment and entering the apartment next door while three residents were at home."
During a press conference on Wednesday, Taylor's mother, Tamika Palmer, did not speak to the media about the news that her daughter's killers would not be charged.
"I'm not surprised," Taylor's cousin Tawanna Gordon said to local media. "But I'm mad as hell because nothing's changing. … Today's decision was an additional injustice on our family and this country. Until Americans start getting mad enough and speaking out and forcing legislators to change the laws for all races, nothing is going to change."
The family's attorney Benjamin Crump said that the ruling was like "killing Breonna all over again." Crump, like others, are questioning the process including the racial makeup of the grand jury and what evidence was presented. The FBI is investigating whether Taylor's killing violates federal law.
"This is outrageous and offensive to Breonna Taylor's memory," Crump said in a statement. "It's yet another example of no accountability for the genocide of persons of color by white police officers. With all we know about Breonna Taylor's killing, how could a fair and just system result in today's decision? Her killing was criminal on so many levels: An illegal warrant obtained by perjury. Breaking into a home without announcing, despite instructions to execute a warrant that required it."
Additional reporting by Cyril Josh Barker