Publicolor teaches students the power of hue
Jasmin K. Williams | 7/11/2013, 2:07 p.m. | Updated on 7/11/2013, 1:57 p.m.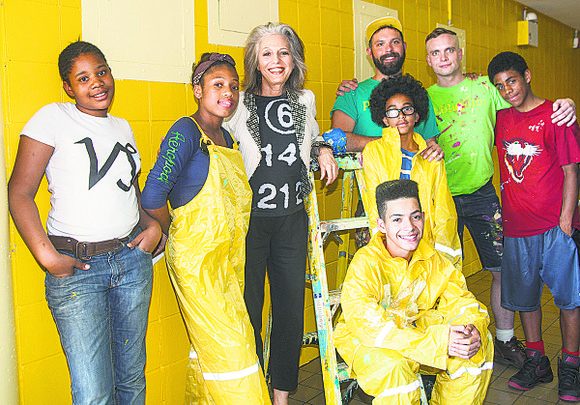 A classic Earth Wind & Fire song says that, "If there ain't no beauty, you got to make some beauty." What could be a more worthy place to make some beauty than in a school, a place of learning and social growth for our children? Dark, hostile school environments come alive with color, and children are reaping the benefits from the power of hue both in and out of the classrooms.
"We use color therapeutically. We use color to change attitudes and change behavior," says Ruth Shuman, founder of Publicolor. "It comes from the premise that if you change the environment, you change the way people are in that environment," she said.
Publicolor began as a pilot project in 1994. Shuman, who holds a master's degree in industrial design, was affected by seeing so many public schools that looked more like institutions than facilities to foster creative thinking and learning. She saw schools that were in need of an environmental change. It's a fact that students learn better in beautiful surroundings, even more so when they are the ones creating that environment. Her first school project was Junior High School 99 at First Avenue and 100th Street.
Shuman did an independent study on the psychological effect of color. "Color has huge power," she said. "If used carefully and sensitively, it can produce very positive results. We turn prison-like, hostile school environments into warm, welcoming student-centric environments. In the process, with the students doing the painting, we create a sense of community where none had ever existed and we introduce a culture of rigor where none ever existed," she said.
At the end of each project, students are left with a newly transformed building, a new sense of community and a much greater sense of safety. "Teachers and students overwhelmingly report feeling safer in a Publicolored school. With minds no longer frozen by fear, teachers can teach and students can learn," Shuman said.
Yellow, not coincidently, is a popular choice. It's all in the science. Shuman did extensive research on the psychology of color. "I discovered that yellow is a color that helps focus energy. Fabulous in a kitchen, but also in a classroom or in a hallway," she said.
"I want students to take pride in their school and understand that pursuing their education is an important journey, and if you put them in a building that is neglected, how can they possibly take pride in this journey? It's not possible. Think about the teachers. They're being challenged. It's got to be hard on them, coming into a classroom, 30 kids, many of them angry, upset, and the teacher has to somehow get their attention, get them to be a community and work with them and try to teach them something in a classroom where the paint is peeling, water is dripping, where colors are depressing. I'm a firm believer that the absence of color is not benign," she said.
Students are involved in the entire process, from choosing the colors to doing the painting. A vote is held for the most popular combinations. There's a school-wide vote so that everyone gets a say. Before the voting, kids always wanted to know why their schools had Skittles colors. Shuman would ask if they had participated in the vote. "Without responsibility, you don't get privilege," she replied. Another lesson learned.