Trayvon Martin: one year later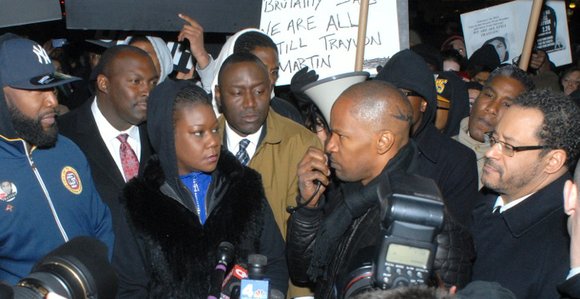 "We are here--because he's not." That was the chant at the Trayvon Martin rally held on Feb. 26, 2013. Exactly one year after he was shot and killed in Florida by George Zimmerman.
"I am a mother of two boys," said Sybrina Fulton, the mother of Trayvon Martin. "I have one son on earth and one son in heaven. I'm going to continue to fight for my boys as well as your boys and girls. Trayvon is in heaven, and this we know: he's resting. He's in God's hands."
Tuesday marked one year since the controversial shooting of the 17-year-old Black male. As those still down for the cause continue their support for the fight for justice, Martin's parents pledge not to rest until justice is served for their son.
Hundreds gathered Tuesday night in the South Plaza of Union Square donning hoodies and bearing candles. Aside from the media frenzy that swamped the area, a sense of sentiment coupled with a sustained anger was in the air.
The day marked one year that started a movement with a story that never ceases to shock. On Feb. 26, 2012, with no weapon and only Skittles and iced tea in hand, neighborhood watchman Martin was fatally shot by then 28-year-old Zimmerman in Sanford, Fla. after he saw Martin walking back from the store wearing a hooded sweatshirt in an apartment complex.
It's been argued the shooting was motivated by racial profiling (Martin was Black, Zimmerman is white-Hispanic), while Zimmerman claims self-defense for the shooting. The world was shocked to find out that Martin's alleged killer was not initially arrested. After public backlash, Florida officials made an arrest.
Zimmerman is charged with second-degree murder for the deadly shooting and will stand trial in June.
Word of the shooting hit the Internet in 2012 with a petition on the website change.org that garnered 2.2 million signatures starting the movement and getting the case international attention.
The night rally, organized by the Million Hoodies Movement for Justice, made way for chants, signs and cheering, and various speakers spoke out about staying persistent as the case against accused killed George Zimmerman gets underway.
Speakers included Carl Dix, Juanita Young, City Council Member Jumaane Williams, Michael Eric Dyson and actor Jamie Foxx. Martin's parents, Sybrina Fulton and Tracy Martin, were also in attendance along with their attorney Benjamin Crump, who spoke honoring their son.
"Tracy and Sybrina know that if they continue their journey to justice for their son Trayvon, they are not alone," Crump said to the crowd. "We are here because Trayvon was taken from Sybrina and Tracy this time last year. They cried out and you cried out and American cried out. We are here to say that we will speak up against senseless gun violence today and forever."
Crump informed everyone that, along with the rallies in Union Square, rallies and vigils were being held across the country simultaneously in memory of Martin. At 7:16 p.m., the time when Martin was killed, attendees lit candles and had a moment of remembrance before blowing the candles out.