Cat's out of the bag: Sharpton outed as FBI informant
Herb Boyd | 4/10/2014, 9:14 a.m.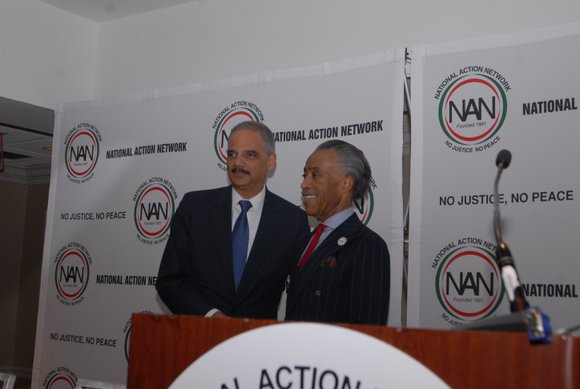 With President Barack Obama scheduled to speak Friday at the National Action Network's annual convention, the website the Smoking Gun felt it was an opportune time to dig up some old dirt to smear the Rev. Al Sharpton and, by extension, tarnish the president.
Smoking Gun, the reverend said at a press conference Tuesday morning at NAN, was "fired long ago," or misfired in charging him with wearing a wire back in the 1980s as an informant for the FBI.
At the press conference, in a phone interview later with the Amsterdam News as well as on his television show on MSNBC that evening, Sharpton insisted that he was not an informant but rather was cooperating with an investigation.
"I was not an informant," he said on "PoliticsNation." "I was an American citizen."
The Smoking Gun ran a lengthy article by William Bastone and others featuring several documents culled from FBI files and Freedom of Information Act requests. Sharpton is listed as "C1-7" (Confidential Informant No. 7), though this must be taken at face value since there is no way to know the informant's true identity.
"CI-7 or B-19," Sharpton cracked at the press conference, "I have no idea what that's about." He also snapped back at the headlines in the Daily News and the New York Post. "I am not a rat, I'm a cat. I chase rats."
Unlike his explanation in his book "Go and Tell Pharaoh," Sharpton admitted that he wore a wire for the FBI because he was being threatened by mob-like individuals, and he felt his life was in danger, especially from the Mafia. "Why was it OK when I was fighting organized crime and now I'm considered an informant?" he said during the interview.
"What they are doing is just another example of criminalization of Black men," Sharpton continued, countering the accusations of the Smoking Gun. "[It's] another way of stereotyping and demonizing us."
In his book, Sharpton raises a point about the timing of the disclosures of wearing a wire in 1983, and he asked why "it did not become public knowledge until 1988? And if I was in fact on the FBI payroll, as has been accused, why did they assault me then? The reason for the attacks is that by 1988, I had a profile, I was moving against the system."
Sharpton's profile is even more public now, and it is interesting that the Smoking Gun article cites the friendly relationship Sharpton has with Obama as if to warn him of the minister's past endeavors. The article states that Sharpton was "a paid informant," which we were unable to substantiate.
What the Smoking Gun article did not touch on was the extent to which Sharpton's spying reached beyond organized crime and into the activist community. We were reminded of this issue in an email from Sundiata Sadiq, a former president of the NAACP in Ossining, N.Y. "I was the only president who actively supported the story involving the rape and cover-up of Tawana Brawley," he wrote. "I truly believed her after hearing the pastor from the church in Newburgh of other rapes and law enforcement involvement."
Sadiq said it later surfaced that Sharpton was an agent working for the FBI. "A meeting took place in the Apollo Theater with Sonny Carson and others to listen to Elombe Brath expose Sharpton trying to lure Assata Shakur (Joanne Chesimard) into some kind of trap … later we learned Sharpton's TV was hooked up to the tape even when it wasn't on."
A much longer version of this episode was published by reporter Ron Howell in Newsday in October 1988, but Sharpton flatly denied trying to make contact with Shakur.
All the uproar around whether Sharpton is a rat or cat hasn't fazed Mayor Bill de Blasio's opinion. "Doesn't change the relationship one bit," the mayor told the press. "I'm very proud to be his friend. I think he has done a lot of good for the city of New York and this country."
On his television show, Sharpton said,
"I did what I tell kids everyday all over this country that they should do. And that is, deal with getting guns and crime out of their community and cooperate with the law."
And, in effect, Sharpton is saying, snitching is good.