Jamaal Bowman stumbled into education and doesn't regret it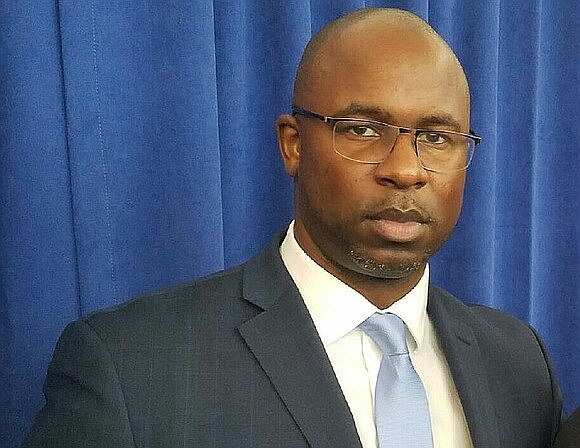 A product of the Upper East Side, Cornerstone Academy for Social Action Middle School Principal Jamaal Bowman didn't set out to be an educator. But here he is.
Bowman was born and raised in New York City and spent the first seven years of his life in the East River Houses with his grandmother. His mother was a single mom and he had two older sisters. All of them worked during the day, so he stayed with his grandmother during the week and with his mother on the weekends. When his grandmother passed, he moved in with his mom full time in Knickerbocker Plaza.
Despite an upbringing some would consider topsy-turvy, Bowman told the AmNews that he was "so thankful and blessed."
At the age of 16, his family moved to New Jersey, where he would finish high school. Although he started college down in West Virginia, Bowman got his undergraduate degree in sports management from the University of New Haven in May 1999. Whereas some college graduates take time off before looking at the job market, Bowman had other goals.
"I told myself that by September, I wanted to have a job somewhere," Bowman said. "I guess my mind was using that [kind of] clock and I was used to being in school."
Bowman didn't consider himself a good fit at any of the corporate jobs he looked into in his chosen field of sports management, so a friend offered to help.
"A friend, whose mom was a teacher and worked for the Department of Education, told me to take a look at that field and give it a shot," said Bowman. "Once I was in, I fell in love with it immediately. God puts you where you need to be."
Bowman said he went to 65 Court St., filled out an application and got finger printed. He was hired on the spot.
Bowman first job came in a high-need area: District 9 in the South Bronx. He worked as a fourth grade crisis intervention teacher at Public School 90, which at the time was embroiled in a cheating scandal.
"When I was there, it had four principles in five years," said Bowman. "You could almost sense the apathy and despair amongst the staff. It was sort of a depressing work environment. I was young and naive and passionate about working with children. I think it should be like military service you should work with children. It's good for the spirit and the soul of all of us."
Bowman learned a few lessons, positive and negative, in his first teaching experience, lessons he carries with him to this day.
"When you become a teacher, you're a learner first," Bowman told the AmNews. "It was mostly positive to be honest. I think the negativity, if there is one, is what the system does in focusing a lot of your worth on a single standardized test at the end of the school year, and there's much more nuance and complexity to what happens to students and teachers in this space. [There are] multiple measures and ways that display the work that teachers do."