Harlem community board awards grants to minority med students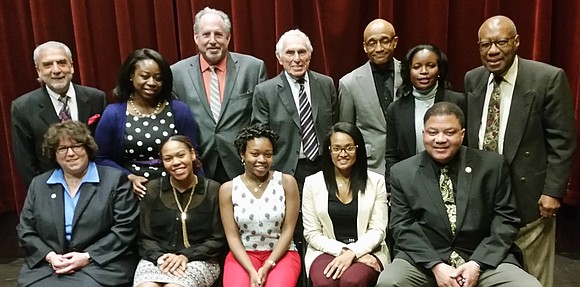 New York, N.Y., Dec. 21, 2016—Touro College of Osteopathic Medicine, in conjunction with the TouroCOM-Harlem Community Advisory Board, has awarded the first round of grants from its newly established Fund for Underrepresented Minority Students. The fund was created to provide scholarships to needy, deserving medical students who will work to improve the health and well-being of the citizens of Harlem and other medically underserved areas upon completion of medical school.
The scholarships, which total $8,019, have been awarded to five TouroCOM students and one community resident who aspires to become a physician. The TouroCOM students receiving awards, all of whom are working toward their D.O. (Doctor of Osteopathic Medicine) degrees, are Brian Barrett, Chantal Gomes, Dale-Marie Simpson, Patricia Jean-Charles and Geoffrey Sanyi.
"The efforts of the Community Advisory Board and the donors to the TouroCOM Fund for Underrepresented Minority Students, will provide the school with greater flexibility in its efforts to recruit and retain qualified URM candidates," said Geoffrey Eaton, a member of the TouroCOM-Harlem CAB.
The CAB was formed several years ago, to provide a vehicle for communication between Harlem community leaders and the school to address mutual concerns and develop strategies to help the college meet its mission.
Other members of the CAB include Hazel Dukes, president of the NAACP New York State Conference; C. Virginia Fields, president and CEO of the Black Leadership Commission On AIDS; Michael Hardy, executive vice president and general counsel of the National Action Network; Lynn Holden, M.D., associate clinical professor of emergency medicine at the Albert Einstein School of Medicine; Geoffrey Eaton, president of the NAACP Mid-Manhattan Branch and deputy chief of staff, Congressman Charles B. Rangel; Icilma Fergus, M.D., director of cardiovascular disparities at Mount Sinai Medical Center; Allyne Spinner, LCSW; John Crepsac, LCSW, CASAC; Martin Levine, D.O., associate dean for educational development, TouroCOM; Walter Edwards, CEO, Full Spectrum of NY; Milton Haynes, M.D., clinical associate professor of OB/GYN at NYU School of Medicine; and Jay Cowan, M.D.
The students submitted compelling personal statements to the CAB that cited financial dilemmas created by their successful pursuit of D.O. degrees, as well as barriers and roadblocks overcome to succeed thus far in medical school. They discussed values instilled through experiences early in life, and lessons learned from their chief role models as motivation for success in the face of seemingly insurmountable obstacles.
Fourth-year student Chantal Gomes grew up on Martha's Vineyard and traces her early interest in medicine from following her grandfather in and out of hospitals as a child as he battled diabetes. She volunteered on the wards herself during high school and put herself on a premed track when she started college. After learning about osteopathic medicine through an outreach program, Mentoring in Medicine, she entered TouroCOM's M.S. program in Interdisciplinary Studies in Biological and Physical Sciences, which offers a conditional entry to high-achieving students to the D.O. program.
On her journey to medical school Gomes said she faced obstacles that taught her to never give up or let anyone cause her to second-guess her abilities. She said, "First it was organic chemistry and I was told that this was the class to weed out a lot of people…then it was the MCAT, which I was told that since I performed below average, I would never pass the medical board exams. But I graduated at the top of the master's program and here I am today having successfully passed on first attempt my boards. Every challenge I faced pushed me even more. I refused to give up. I love my journey and the obstacles I overcame. Even more, I love sharing my story with minority youth in an effort to motivate them."