Rest in power—Dr. Jack Felder, activist and scientist, passes at 78
Herb Boyd | 12/7/2017, 6:10 p.m.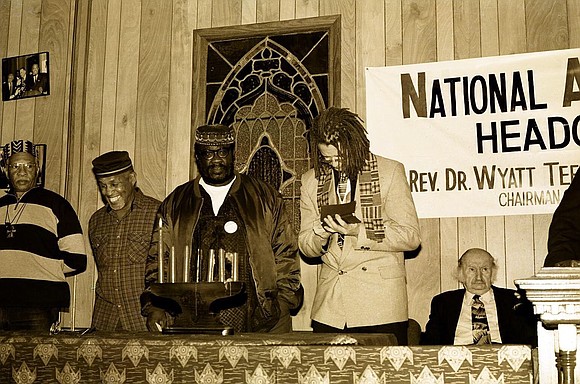 For many years, come rain or shine, Dr. Jack Felder, along with his son, Nova, had a permanent spot on 125th Street in front of Mart 125. There, with an array of books, CDs and other African-American and African artifacts and memorabilia, they set up shop. A customer purchasing an item was guaranteed a lecture from Felder—it was a bonus the griot dispensed with an arsenal of facts. The griot of 125th Street joined the ancestors Dec. 3, according to his son.
In an interview with Lamont Muhammad published in the Final Call in 2002, there is a brief bio and scientific background on Felder.  He was born in Columbia, S.C., June 14, 1939. From 1962 to 1964, he was a U.S. Army germ warfare specialist assigned to the 5th Army Regiment in Chicago. In a similar capacity from 1964 to 1966 as a civilian, he worked at the Natick Labs outside of Boston.
From 1966 to 1970, he was a research scientist and translator at Siemens Firm in Berlin, Germany.  He returned to the states in 1974 and began teaching science and math at Harlem Prep. Meanwhile, he continued his education, earning a master's and doctorate degrees in biochemistry from the State University of New York. An engrossing speaker, Felder was a prolific writer, publishing more than 15 books, including "From the Statue of Liberty to the Statue of Bigotry" (1986), "AIDS—U.S. Germ Warfare at its Best with Documents and Proof" (1986), "Who Really Assassinated Dr. Martin Luther King?" (1987) and "Who Was Really Behind the Assassination of Malcolm X?" (1988).
When Muhammad asked him to expound on his African heritage and his roots in South Carolina, Felder said, "I didn't learn that I was Gullah until I got to New York and started studying my true history. I learned that my people, the Gullah, are the Blackest and most pure Africans in America. I knew that when the slave master raped and impregnated our woman with half-caste children, we threw them babies in the Copper River. That's how we stayed so Black."
But it was on the subject of AIDS that elicited Dr. Felder's most passionate comments. "It was a sham," Dr. Felder replied when Muhammad asked his impressions of a recently convened AIDS conference in Madrid, Spain, "like the rest of the AIDS conferences white folks have held. Let me give you an example. If people have syphilis or gonorrhea, [doctors] give them a shot of penicillin, which knocks out the disease. If you have any other disease, they would give you a shot to kill the disease. No sane person would come up with a vaccination to cure an existing disease. They are spreading the disease with the vaccinations. They do not intend to find a cure because … it is doing what they want.
"It is reducing the Black, Brown, yellow and red populations and they are making money [in pharmaceutical sales]."
Dr. Felder continued his warning about the looming genocide. "The U.N. is a sham," he said. "It was set up after White [sic] War II to carve up the rest of the world for white people. One of the early secretary-generals, Kurt Waldheim of Austria, was a Nazi and the preamble to the U.N. Charter was written by apartheid-era South African General Smut. It is all a sham against dark people."
Felder, in the words of Lloyd Williams, CEO of the Greater Harlem Chamber of Commerce, "was a remarkable man with an unconditional love for his people."
Williams continued, "We will miss his extraordinary scientific knowledge and his commitment to the survival of African and African-American people."
Funeral and home-going services will be held at the Williams Institutional CME Church, 2225 Adam Clayton Powell Jr. Blvd., between 131st and 132nd streets. The wake will be Tuesday, Dec. 12, between 3 p.m. and 9 p.m. The home going ascension will be Wednesday, Dec. 13, from 9 a.m. to 11 a.m. Felder will be interred in Queens at Springfield Cemetery. For more information, contact HarlemUniversity@gmail.com or call 718-807-7188.