Jazz Gallery Films, Jazz for Disability, Jazz Connect
Ron Scott | 1/5/2017, 10:57 a.m.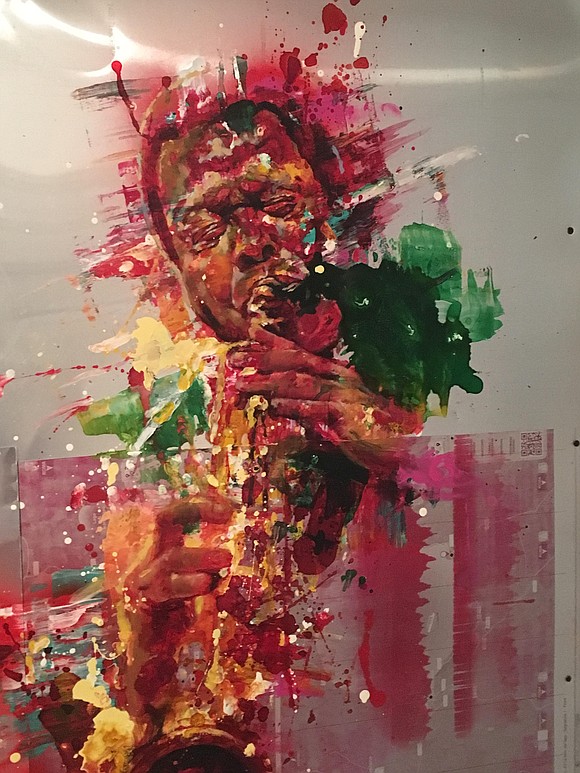 The Jazz Gallery, known for introducing its audiences to exciting young guns and those musicians who refuse to follow the Merriam-Webster definition of a "conformist", will present its Inaugural Jazz on Film Festival Jan. 6 and Jan. 7.
For two nights, the cozy jazz room will present six films in celebration of jazz, its musicians and its history. It kicks off Jan. 6 at 6 p.m. with "Black Science: Steve Coleman & The World of M-Base," a 21-minute documentary on the early musical ideas of Steve Coleman and M-Base, shot between 1993 and 1995, directed and produced by Natalie Bullock Brown.
At 6:30 p.m., the documentarian Shirley Clarke captures Ornette Coleman's evolution over three decades in "Ornette: Made in America." The film explores the rhythms, images and myths of America seen through the eyes of Coleman. Running time is 77 minutes.
The 8:30 p.m. film, "Radhe: Rites of Holia," is a multimedia collaboration by composer-pianist Vijay Iyer and filmmaker Prashant Bhargava, who were inspired by the centennial of the Stravinsky-Nijinsky "Rite of Spring" to explore another sort of rite of spring: the Hindu festival of Holi, in celebration of the love between the divine Krishna and Radha.
In northern India, Bhargava filmed the images of an eight-day Holi festival held in the city of Mathura (the mythic birthplace of Krishna). Iyer then composed his score as the actual musical complement to Bhargavas beautiful visual ballet, drawing at times on the rhythms and chants of the Holi festival. Running time is 52 minutes.
Jan. 7 has the 6 p.m. film, "The Cry of Jazz," directed by filmmaker, composer and arranger Edward Bland. It is his essay on the politics of music and race, a forecast of what he called "the death of jazz." The film, which stars George Waller and Dorothea Horton, was made in Chicago and finished in 1959.
The 7 p.m. film, "Sun-Ra: A Joyful Noise" (1980), is an acclaimed 60-minute documentary directed by Robert Mugge and filmed on location in Philadelphia, Baltimore and Washington, D.C., between 1978 and 1980.
The festival concludes with the 8:30 p.m. documentary, "Charlie Haden: Rambling Boy" (2009), directed by Reto Caduff. Haden is revered as one of the world's best bass players, from jazz to pop to classic, up to contemporary e-composers. Running time is 80 minutes.
Tickets for the Jazz on Film Festival are $25 per day, and a weekend pass is $40. For a complete listing and tickets, call 212-242-1063 or visit the website info@jazzgallery.org. The Jazz Gallery is located at 1160 Broadway, New York City.
The Jazz Gallery's walls are currently masked with the artwork of Olga Tasarkova and Massimo Chioccia. Their works depict iconic figures among jazz musicians, such as Sonny Rollins, Chet baker and Wayne Shorter. The artists make use of paint, enamel on canvas or on sheet metal.
The couple lives in Italy but Chioccia was here in New York for the gallery opening in early December. "It's 20 years now that we live, work and clash as a duo, a dueling duo," stated Chioccia.
Their works have been exhibited in such jazz clubs as New York's Birdland, the Blue Note of Milan and the Alexander Platz Jazz Club of Rome.  
For the 60th anniversary of the Newport Jazz Festival in 2014, a Tsakova/Chioccia work was chosen for the cover of the festival's official celebratory book. The exhibit runs now through January 2017.
A coalition of distinguished jazz musicians will join forces on Jan.5, at the Quaker Friends Meeting Hall (15 Rutherford Place) in Manhattan. The Jazz Legends for Disability Pride is a concert fundraiser helmed by the many legends of this music and organized by pianist/organist and president of Disability Pride NYC, Mike LeDonne.
Some of this year's musicians graciously donating their distinct voices to help this cause will include Ron Carter, Benny Golson, Jimmy Cobb, Harold Mabern, Larry Willis, Roberta Gambarini, Jon Faddis, Eddie Henderson, George Coleman, Buster Williams, Louis Hayes, Jon Faddis and Bill Charlap (6:30 p.m.-9:30 p.m.).
This event is more than just a jazz concert. It is a definitive commitment to assist those many children and adults with disabilities who need assistance.
For a complete listing of performers and tickets visit the website http://www.winterjazzfest.com/jazzlegends.
The Jazz Connect Conference runs Jan. 5-6, on Manhattan's East Side at St. Peter's Church (Lexington Avenue at 54th Street). Now in its fifth year, the conference will continue to focus on vital issues affecting the jazz community, with a theme of "The Family of Jazz."   
The keynote speaker will be Grammy-winning composer/bandleader Maria Schneider, an active advocate for artists' rights. Another Grammy-winner, bassist/bandleader/radio host/artistic director, Christian McBride, will receive the Bruce Lundvall Visionary Award and will be introduced by impresario George Wein. 
Some of the panels include What Does It (Really) Mean to Be a Woman in Jazz? (Presented by Local 802, AFM.) This panel discussion will focus on women's issues and the music industry including such topics as "Coming Up (As a Woman) in the Music Business" and "Recognizing and Demanding Your Worth on the Music Scene." Panelists will include bassist Nicki Parrott, saxophonist and flutist Carol Sudhalter, vocalist Brianna Thomas and pianist Rachel Z.
The panel Alternative Spaces for Presenting Jazz focuses on house concerts to corporate events, unique opportunities for gigs that can be found beyond the usual club and festival circuit. Some panelists are Viola Plummer (Sista's Place), Gerri Abrahamsen (DCA Productions) and Bruce Labadie (San Jose Jazz).
For the panel Cuba: New Opportunities, some players who have an active role with Cuban jazz share their insights on what new opportunities are likely in the near future. Panelists include Arturo O'Farrill,Tom Popper (Insight Cuba) and Elio Villafranca.
For a complete schedule, visit jazzconnectnyc@gmail.com or call 617-315-9158.