Baltimore police doing 12-hour shifts after deadly surge of violence
Madison Park and Deanna Hackney, CNN | 6/14/2017, 10:31 a.m.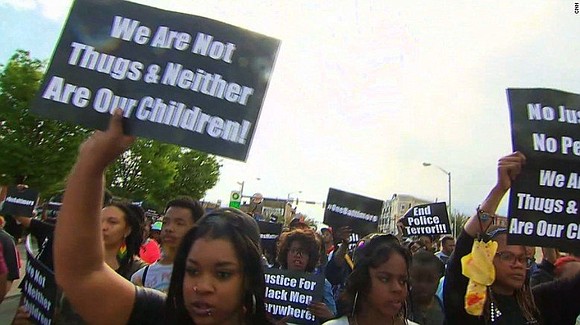 (CNN) -- The man was bleeding from his forehead when officers found the shooting victim as he lay dying on a waterfront road early Tuesday.
Less than an hour later, officers got called to a quadruple shooting, in which two people died in another Baltimore neighborhood.
The shootings overnight Monday left a chilling toll: Six people had been killed in Baltimore.
It marked a tumultuous year so far for Charm City, which has 159 homicides, according to police data.
Baltimore Police Commissioner Kevin Davis called the violence in the city "unconscionable."
He instituted mandatory 12-hour work shifts for all of the city's police officers. Every sworn officer will be deployed to the streets through the upcoming weekend, he said.
"We're just as angry and frustrated and ticked off about it as anyone else watching this," Davis said in a press conference Tuesday. "I expect people to be upset. I expect people to want a better Baltimore."
Shortly after Davis' afternoon press conference, another quadruple shooting broke out Tuesday. Four men were injured; no one was killed, police said.
'Will we be here tomorrow?'
In Baltimore, makeshift memorials with melted candles, flowers and stuffed animals to mark the spot where a person has been killed have become common sights.
"There's always a shooting," Donavin Dorsey, a Baltimore resident told CNN affiliate WMAR. "We hear them walking down the street. Last week, I heard all these gunshots and I just pray."
Dorsey said he worries a lot.
"I'm afraid. For my kids, for myself, friends. Will we be here tomorrow? I don't know."
Another Baltimore resident Deana Carter told the station that the root problems are complex.
"If you don't have any money and no food, no place to go, survival is the first thing," she said. "You're going to do what you have to to survive."
Six deaths in seven hours
Overnight Monday, Baltimore police reported six people deaths and two gunshot injuries in a span of seven hours.
Monday 8:20 p.m. -- An adult male was found shot inside of a nearby car. The victim, who died, has not been identified.
Monday 8:35 p.m. -- A 28-year-old man was shot and killed during what detectives believe was a drug dispute.
Monday 10:35 p.m. -- A 37-year-old woman was shot and killed from what police say was a neighborhood dispute involving bullying.
CNN affiliate WBBF reported that the woman had called police after several boys assaulted her son on Monday. When police left the scene, masked shooters approached and shot her in front of her kids.
Tuesday 2:45 a.m. -- A 27-year-old man was found dead lying in the roadway.
Tuesday 3:25 a.m. -- Four people were shot, two of them were killed -- a 26-year-old man and a 21-year-old woman.
In an editorial published earlier in the week, the Baltimore Sun decried the "crushing pace of homicides."
"What we are experiencing is not a blip but evidence of a breakdown in the social order that has only accelerated in the two years since the riots sparked by Freddie Gray's death."