Citizen app launches in NYC to spread word about crime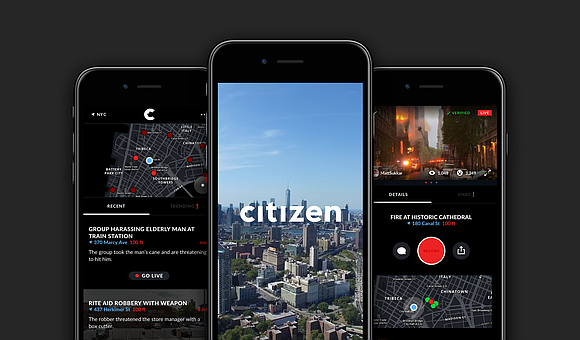 Citizen app (formerly known as Vigilante) launched in the city this week in an effort to combat violence, give residents an insight on what's going on their community and even improve community-police relations.
The app provides instant notifications of nearby emergencies and reported incidents and is
available on all iOS and Android devices.
Real-time, crime notification of incidents are reported near the user's location through 911 emergency dispatch. The app gives information on crimes in progress allowing users the opportunity to avoid an area.
Users can also live stream what's going on from a safe location to help the community stay aware of what's happening
Citizen is backed by a series of technology venture investors including RRE Ventures, Slow Ventures, Kapor Capital and FF Angel, the early stage investment vehicle of Founders Fund, a San Francisco-based firm that has invested in companies including Airbnb, Facebook, SpaceX and Palantir.
"The time has come for technology to play a greater role in creating transparency and safety in our everyday lives. Citizen empowers us with the tools we need to be safe and remain informed," said Andrew Frame, the founder and CEO of Citizen.
Citizen is supported by a coalition of community and business leaders who believe in the power of transparency and the pivotal role of technology in community policing.
"The status quo is more dangerous than trying something different. There is always risk with disruption, but Citizen empowers the most vulnerable to be safer. It provides the transparency our communities need to keep our most embattled neighbors safe," said Benjamin Jealous, national civil rights leader and former president and CEO of the NAACP.
Anti-violence activist and CEO and founder of LIFE Camp, Inc. Erica Ford said Citizen is a tool that can be used to enhance violence intervention. Ford's area in Queens was used as a pilot area for the app.
"In our pilot area we helped enhance community cohesiveness and successfully had no shootings for over 539 days and no killings in our target area," she said. "Citizen helps unify our community by making us aware of our surroundings."
Hip-hop mogul and community activist Russell Simmons added that the app is a way for the NYPD and residents to collaborate.
"While we have seen the relationship between law enforcement and civilians become strained over the last few years, including several instances that have resulted in tragedy, this app allows the police and community to work together to rebuild trust," he said.