New York elected officials react to Las Vegas mass shooting
10/2/2017, 2:46 p.m.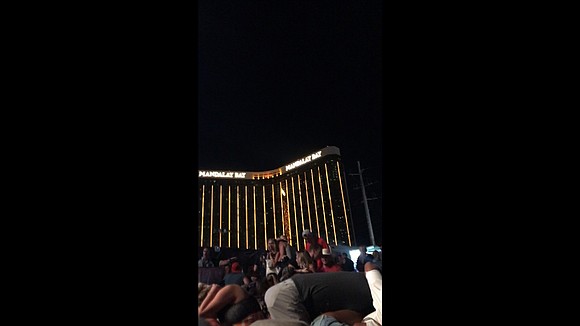 Several elected officials released statements about what happened in Las Vegas.
Public Advocate Letitia James
Our thoughts and prayers are with all the victims and their families affected by the horrific events in Las Vegas. But last night's mass shooting requires more than our thoughts and prayers, it requires action. A single individual unleashed horror and trauma upon thousands of people, killing at least 58 individuals, by using weapons of mass destruction: guns. New York City and New York state have led the way by passing some of the toughest gun control laws in the nation. It is past time for congressional leadership to show moral courage and truly make our country safe."
Brooklyn Borough President Eric Adams
"Last night's mass shooting in Las Vegas, the deadliest in American history, defies comprehension. This is domestic terror at its worst. The hundreds of bullets senselessly fired from a hotel room window have claimed the lives of dozens of innocent concertgoers, including members of our law enforcement community. As we learn the identities of those we have lost in this attack, the pain these bullets have wrought will only deepen further. Brooklyn mourns, alongside people across our nation, the victims of this horrific massacre. More than that, our borough demands better; we demand safer communities for all of us."
Congressman Jumaane Williams
"We awoke this morning to news that over fifty Americans souls were murdered, and over five hundred have been injured. I offer my prayers for peace and comfort to the families of those who have been killed, and for those fighting for their lives, that they may make full recoveries. I thank the first responders and medical staffs who have worked to prevent further loss of life."
Assemblymember Michael Blake
We witnessed another unspeakable action of violence. Our thoughts are also with the brave first responders who fearlessly sought and captured the shooter and willingly put themselves in harm's way to save others. As we take all this in and work through the forever lasting scars now created, it is more important than ever to stand together, unified in the condemnation of violence, whether it is a mass shooting in Las Vegas or Orlando or the unfortunate every day shooting in cities across our country each day.
Congressman Adriano Espaillat
"My heart is heavy following the horrendous attack in Las Vegas, and I offer my sincere condolences and prayers for each of the victims, those who were injured, and to each of the families affected by this deadly mass shooting. As we join as a nation to embrace the survivors and families who lost loved ones, we commend each of the first responders who answered the calls of those who were in need."
Manhattan District Attorney Cy Vance
"The events in Las Vegas are beyond tragic or reason. All New Yorkers wish the people of Nevada, the families of the victims, and the survivors strength and resolve in the difficult days to come."
Congresswoman Carolyn B. Maloney
"Once again today, we are mourning the loss of dozens of innocent lives and the injury of dozens more, all victims of another madman with a gun. As we wait for answers as to how this happened and what the shooter's motivations were, one thing is clear: enough is enough. It is time for Congress to act. It is time for us to stop just sending our 'thoughts and prayers' and time for us to get serious about gun safety."