Laurence Fishburne stars in 'Last Flag Flying'
LAPACAZO SANDOVAL | 10/12/2017, 6:04 p.m.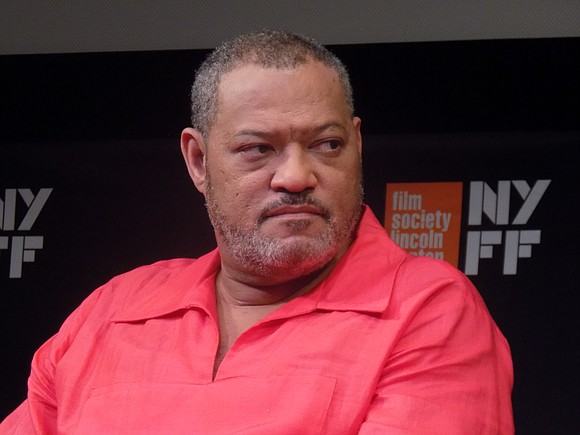 In 1998, I had the pleasure of being in the audience for James Purdy's play "Sun of the Sleepless," which starred a then-unknown actor whose reputation, to surprise—in the early 1990s—was growing exponentially. That actor was Laurence Fishburne. The dynamic thespian had not yet reached the iconic status that he has today, having not given Neo the epic choice in "The Matrix" of choosing between a red pill and a blue pill.
Nonetheless, Fishburne's commanding presence in Purdy's play left an indelible mark, and there, in a tiny New York theater—so long ago— I can clearly trace where I became a sincere fan of his work.
Fast forward to 2017. Despite my Hollywood hobnobbing and such, I've never had an opportunity to shake the storytellers massive hand and tell Fishburne, now an actor/producer with ABC's excellent comedy "Black-ish," just what his 1998 performance meant to me—until last week, at the 55th New York Film Festival opening night party at Tavern on the Green for Academy Award winner Richard Linklater's "Last Flag Flying," a drama with comedic overtones about three Vietnam War veterans played by Bryan Cranston, Steve Carell and Laurence Fishburne, with newcomer J. Quinton Johnson.
The invitation to NYFF's opening night party isn't automatic with press accreditation. To be frank, it's a hard invitation to acquire, but after covering the festival for the past five years, what I've discovered—hindsight being 20/20—is that this festival is where I have been introduced to past Oscar nominees and winners. Such is the reputation of NYFF.
Fishburne wore a red suit that on anyone else might seem a bold and hasty fashion choice. Sitting in a crowded VIP section, he was easy to spot. Zigzagging with a practiced skill honed by attending hundreds of such events, I made my way to his table long before the adoring crowd lined up to gush.
The words tumbled out: "I've been a fan since 1989ish."
I explained my theater experience, and it's here that I wish my eyes were cameras, able to instantaneously capture a response.
"As far back as that?" he asked, a twinkle bouncing between his eyes.
"As far back as that," I confirmed.
We chatted, and it was nice. Fishburne is a man who loves his work, including his role on "Black-ish," and when you insert his proper name, Laurence J. Fishburne III, the search engine pulls up his resume, allowing one to step back and appreciate the breadth of his stage work, having won Drama Desk, Outer Critics Circle, Theatre World and Tony awards for his portrayal of Sterling Johnson in August Wilson's "Two Trains Running," directed by Lloyd Richards.
He's an Emmy Award nominee and an NAACP Image Award winner, and he's been acting since the age of 10. To say that he was born into the profession is rather very simplified. At age 15, he was cast in Francis Ford Coppola's classic "Apocalypse Now," and he's never stopped becoming what he is now—storyteller Laurence J. Fishburne III. His legacy continues, and in "Last Flag Flying," his measured performance as the Rev. Richard Mueller, aka "Mueller the Mauler," just might earn him a Best Supporting Actor nomination, or so says the Oscar buzz.
The other conversations around early Oscar predictions included "Strong Island" by director Yance Ford, a documentary on Netflix about his brother's murder 20 years ago.
Also in conversation, most film critics and Hollywood insiders who saw Dee Rees ,"Mudbound" feel strongly that the film will land a nomination next year.
Also at the party was Academy Award-winning filmmaker Roger Ross Williams ("Music by Prudence"), who is also a member of the Academy of Motion Picture Arts & Sciences board of governors, representing the documentary branch.
I enjoy watching Williams work a room of distinguished folks, always tight-lipped and ready with a smile.
Next year's 90th Academy Awards will be held March 4, but until then, the NYFF55 Festival runs until Oct. 15.
Follow @TheNYFF on Instagram for exclusive photos, festival videos, ticket giveaways and more. Visit https://www.filmlinc.org/nyff2017/.