Stacey Abrams wants to be America's first Black female governor
10/16/2017, 12:16 p.m.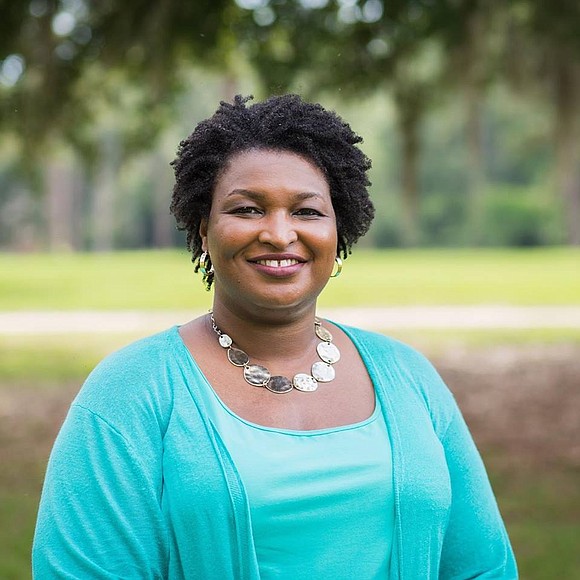 The GOP has held a tight grip on the governor's mansion in Georgia since 2002, when Sonny Perdue, promising to restore the Confederate battle cross to the state flag, defeated Democratic incumbent Roy Barnes to become the first Republican to hold the position in the Peach State since Reconstruction.
But, a motivated Democrat is looking to change that and shatter a glass ceiling that has never been broken in the United States.
Stacey Abrams, the Georgia state house minority leader, who holds degrees from Spelman College and the Yale School of Law, is seeking to become America's first Black female governor.
"It's a very humbling experience to know that, if I win this election, I would have achieved something that Black women, as far back as Barbara Jordan and Shirley Chisholm, have fought for, not necessarily the same job, but transforming how we think about leadership in America," Abrams said in an interview with the NNPA Newswire. "Physically claiming that mantle of leadership and holding it signals that anything is possible and we can redefine what leadership looks like and who we can lift up."
Abrams, 43, said she's undaunted by the stranglehold the GOP has had on the governor's mansion for the past 15 years.
She said Georgia will likely be a majority-minority state in the coming years which provides Democrats more of an opportunity to claim the seat next year.
Abrams noted that Democrats have gained steamed, citing the 2006 race where the party lost by nearly 400,000 votes but significantly closed the gap during the last election in 2014, coming within less than 200,000 votes of victory.
Four Republicans—Lieutenant Governor Casey Cagle; Secretary of State Brian Kemp; State Senator Hunter Hill; and State Senator Michael Williams and two Democrats—Abrams and State Representative Stacey Evans—have declared their candidacy for the post.
The New Georgia Project, a non-partisan voter registration group, that Abrams launched three years ago, may also help her candidacy.
"It's the single largest voter registration effort in recent memory in Georgia and we have been able to register more than 200,000 people of color in Georgia to vote," Abrams said. "I just don't talk, I have a record that we need to talk about."
The Guardian reported that, Abrams is "One of six children born to Methodist ministers in Mississippi who later followed their work to Georgia, Abrams' family struggled to fight off poverty, relying at times on government assistance."
As a student at Avondale High School, Abrams was hired as a typist for a congressional campaign in high school, where her tweaks to a campaign speech she was typing up were deemed so good she ended up being hired as a speechwriter at 17, The Guardian reported.
And, as she seeks to become the first female Black governor in history, Abrams has already accomplished a series of firsts including being the first person in her immediate family to buy a house and the first to become a lawyer. She also earned the distinction of being the youngest deputy city attorney in Atlanta's history.