Whole Foods Market unveils public artwork, Harlem: Past, Present, Future
10/19/2017, midnight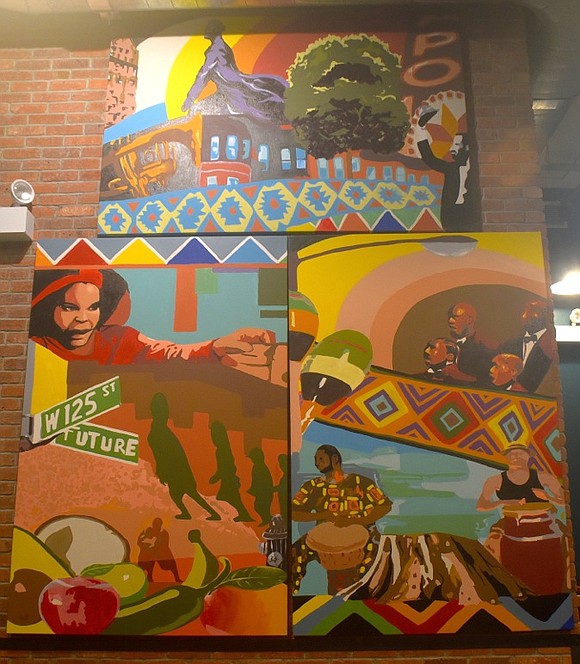 There was an official dedication of the public artwork, Harlem: Past, Present, Future, at Whole Foods Market Harlem Wednesday, Oct. 11, 2017. Three large canvases were created as part of a Creative Art Works Public Art Youth Employment program, commissioned by Whole Foods. Nine students from A. Phillip Randolph Campus High School participated in this after-school program as paid youth apprentices. They were guided by CAW Teaching Artist Vince Ballentine, who previously worked on the Dr. Lottie Taylor Library Mural on the Fourth floor of A. Phillip Randolph, as well as the lunch room mural at PSMS 278 in Inwood, Manhattan.
Four APRCHS students participated in this event, including Matthew Smart (who also served as MC for a student question-and-answer session), Carla Mateo, who is represented as the face of Harlem's youth on the canvas depicting the future, David Sarpong and Uriel Garcia Flores.
Also in attendance were James P. Thomas, constituent service liaison and community coordinator from the Office of Manhattan Borough President Gale E. Brewer; Lucia Albero, Whole Foods Metro Marketing team leader; Damon Young, Whole Foods Harlem Store team leader; CAW Executive Director Brian Ricklin; and CAW Program Director Daniel Bergman.
The youth apprentices who created this public art include Marcela Gomez, Julio Alvarez, Matthew Smart, Dorena Pink, Emilio Peralta, Halima Benjamin, Carla Mateo, Uriel Garcia Flores and David Sarpong.
For more information, contact CAW Director of Development Karen Jolicoeur at karen@creativeartworks.org or 646-424-0392 ext. 803.