Smoke and mirrors: Smoking banned in NYCHA housing
CYRIL JOSH BARKER Amsterdam News Staff Additional reporting by NAYABA ARINDE Amsterdam News Editor | 8/2/2018, 12:04 p.m.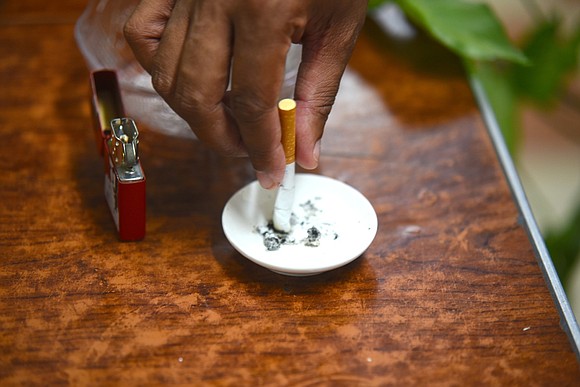 Nonsmokers and reformed smokers often rail against walking through clouds of nicotine as they walk by public spaces. Residents in multi-dwelling buildings might quietly grumble as they breath in relentless second-hand smoke from their puffing and dragging neighbors.
TV commercials show harrowing testimonials from now-deceased regretful smokers.
There is a theme here.
It is now illegal to smoke in any New York City public housing apartment or building or within 25 feet of the building.
Starting Monday, residents living in New York City Housing Authority buildings can no longer smoke in the buildings. NYCHA announced in February it would ban smoking in an effort to reduce the effects of secondhand smoke.
NYCHA families received notice of planned lease changes in January and a lease addendum in the spring. The new rule allows NYCHA staff and residents to report violations.
"Regardless of the reasons we smoke, cigarette smoking kills!" said activist Omowale Clay. "Secondhand smoking is dangerous."
The member of the December 12th Movement community organization continued, "Having said that, NYCHA's implementation of an open no smoking policy while hiding a policy of lying about lead paint and repairs will, in my view, greatly hinder tenant's acceptance of anything positive coming out of NYCHA."
The AmNews reached out to NYCHA to know specifically how resident will be punished, but the housing authority did not respond by press time.
NYCHA says it doesn't want to evict tenants if they violate the smoking ban, but they will be punished. The ban includes cigarettes, cigars, pipes and hookahs.
"When we first learned of the new HUD rule requiring public housing to go smoke-free, we knew it was critical to engage our residents on the smoke-free conversation and what this will mean for their homes and public health overall in NYCHA communities," said NYCHA Interim Chair and CEO Stanley Brezenoff.
The policy is in response to the United States Department of Housing and Urban Development rule requiring all public housing authorities to be smoke-free by July 30. The city initiated its Smoke-Free NYCHA program aimed at creating healthier homes for public housing residents and employees.
The initiative is part of the NextGeneration NYCHA Sustainability Agenda. The city's Health Department says adults exposed to secondhand smoke have higher risks of stroke, heart disease and lung cancer and children have increased risks of asthma attacks, respiratory illnesses, middle ear disease and sudden infant death syndrome. Secondhand smoke can also travel through cracks, ventilation systems and windows.
"The Health Department is proud to work with NYCHA on Smoke-Free NYCHA through engagement, education and connections to resources for residents who want to quit smoking," said Health Commissioner Dr. Mary T. Bassett. "Through programs such as our Harlem Health Advocacy Partners, who are leading the Freedom from Smoking program for residents of Clinton Houses, Johnson Houses, King Towers, Lehman Village and Taft Houses, and our ongoing support of NYCHA's Health Initiatives Unit, we are committed to the long-term work of helping NYCHA residents go smoke-free along with their buildings."
"What about lead paint and mold?" demanded outraged activist Iman Essiet. "NYCHA could care less about that. Let's be clear! This is a housing purge to get Black folks up out of their apartments. They could care less about our health. They—the federal government—know people are addicted to their smoke because they created the stress that caused us to become smokers in the first place, and these same people also own the tobacco companies from where the smoke comes from. This a bigger ploy to remove Black people out of city housing and off city and onto the streets, so that they can privatize NYCHA property and use it for more ethnic cleansing [gentrification] because they really think that the real estate market is going to save them from the fall of their capitalistic system."