MLK Now 2018: The year of the woman
JASMINE SAUNDERS | 2/1/2018, 10:48 a.m.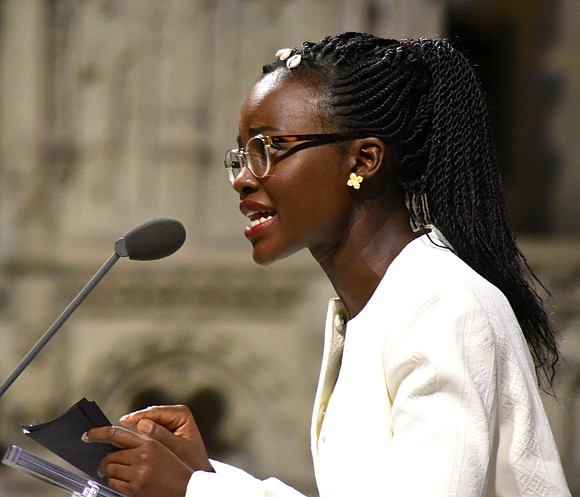 MLK Now, in its third consecutive year focused on the contributions of women to the modern movement for parity in the celebration of the ideals of Dr. Martin Luther King Jr., was held at Riverside Church Jan. 15, 2018, the site where Dr. King gave his controversial 1967 "Beyond Vietnam" speech. The event was co-hosted by Blackout for Human Rights, an activist organization with a membership that includes Ryan Coogler, Ava DuVernay and Pastor Michael McBride that is dedicated to raising awareness and finding solutions to the human rights violations that plague predominantly Black and Brown communities, and the Campaign for Black Male Achievement, in partnership with Color of Change, PICO National Network and The Root.
Celebrities such as Oscar-winning actress Lupita Nyong'o and Grammy-nominated musician Black Thought read selections from figures influential during the Civil Rights Movement and beyond, including Kathleen Neal Cleaver, Dr. King and Toni Morrison, to breathe life into their words that still resonate today with the challenges that plague this country.
The event highlighted the fact that in Puerto Rico, a U.S. territory, in the aftermath of hurricanes Maria and Irma, people are still living without basic necessities such as clean water and electricity. According to Elizabeth Yeampierre, the co-chair for the Climate Justice Alliance, so-called disaster capitalists have been trying to seize the land and relocate the original inhabitants to bring in gentrifiers.
Despite the lackluster support from FEMA and other organizations, the Caribbean islands have been supporting their own, with Puerto Rico dispatching aid workers to St. Croix in the U. S. Virgin Islands, despite Puerto Rico's devastation. "Our global South is united, and we are moving away from colonization, and [toward] independence and sovereignty," said Yeampierre.
Yolanda Leger from Haiti was passionately waving her flag while listening to Yeampierre. She explained that she was "angry" at how Puerto Rico was treated as being a separate country from the U.S. She also expressed how fruitless it is to proclaim to be from one island within the Caribbean and not feel some sort of kinship with fellow island nations, especially when they have a shared history of colonization.
"We should start getting together as one," she said.
This year's MLK Now commenced with the recent resurgence in women's rights movements such as #TimesUp and #MeToo. The all-female panel that discussed issues relevant to women who take on leadership roles within these movements featured 2008 Green Party vice presidential candidate Rosa Clemente, CNN commentator Symone D. Sanders, Woke Vote founder DeJuana Thompson—who was instrumental in mobilizing the Black female vote in Alabama—and co-chair of the 2017 Women's March Carmen Perez.
Among the topics discussed was the expectation for women of color to save the world and fight for everyone. "Th[ere] needs to be a reciprocal relationship," Sanders said of the need for WOC to have people support them in return.
"We are no longer going to be your mule," said Clemente.
Also, the importance of self-care for activists was another topic because of the health risks. With the recent death of activist Erica Garner and the health problems she suffered, self-care is extremely important for activists to practice. Dealing with the stress of racism and sexism can take a toll. "It's just toxic," said Sanders.