32BJ President blasts FEMA for hurricane efforts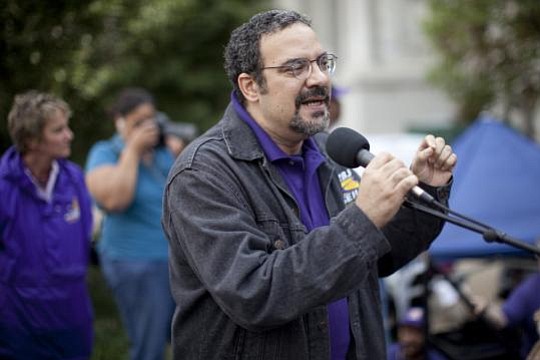 The Federal Emergency Management Agency has let the country know what many citizens already thought: they screwed up the Hurricane Maria response.
FEMA released an assessment of its own performance during the 2017 hurricane season. In the report titled the "2017 Hurricane Season FEMA After-Action Report," FEMA cited several issues with responses to multiple storms. But the worst was reserved for Hurricane Maria, which hit Puerto Rico last October. The agency said that it didn't properly prepare for the storm and didn't provide enough supplies to Puerto Ricans.
"The unprecedented scale, scope and impacts of the complex combination of hurricanes Harvey, Irma and Maria and the California Wildfires tested the capabilities FEMA has developed and improved since hurricanes Katrina and Sandy," read the report. "The 2017 Hurricane Season involved major operations across multiple incidents that required decision-makers to rapidly observe and react to unfolding events. FEMA surged and redeployed resources for incidents across a wide geographic area to support millions of survivors in their time of need."
The report covers the three weeks between Aug. 25, 2017, and Sept. 20, 2017, when hurricanes Harvey, Irma and Maria made landfall in the United States, followed by California wildfires. The disaster affected 15 percent of the population and caused $265 billion in damages. The report is one of the first times the agency has gone on record admitting to problems with its hurricane relief and recovery operation in Puerto Rico.
Hector Figueroa, president of 32BJ SEIU and a member of the Vamos4PR Steering Committee, said he was glad to hear FEMA admit to its screw-up. However, in his eyes, it's too late.
"FEMA has finally admitted what we have known all along, that the federal government's response to the crisis in Puerto Rico was criminally negligent and in fact worsened the situation," said Figueroa in a statement. "In light of this revelation, FEMA should immediately work to help Puerto Ricans who are still suffering and in desperate need of a lifeline. It should cease and desist its attempts to pressure citizens living stateside to return to the devastated Island and instead work with evacuees to ensure they have the resources to rebuild their lives and transition to stable housing."
In the immediate aftermath of the storm, FEMA only had 31 generators on the island of Puerto Rico and although they eventually installed 2,000 generators, the agency showed little care for the severity of the storm. According to the report, FEMA had the chance to better leveraged open-source information and preparedness data for Puerto Rico and the U.S. Virgin Islands, but "entered the hurricane season with a force strength less than its target, resulting in staffing shortages across the incidents."
FEMA Administrator Brock Long wrote a letter at the beginning of the report stating that FEMA would improve its modus operandi and do right by citizens in need. Although the agency just announced an approval of $140 million for recovery in Puerto Rico, "FEMA will work with all of our partners, including Congress, to better serve survivors before, during, and after disasters," wrote Long in a letter. "Some of these actions cannot be accomplished within existing authorities or by administrative action. Collectively, we must continue to simplify our processes and leverage new approaches and technology to reduce complexity and increase efficiency, focusing on outcome-based recovery."
But Figueroa said this strategy goes beyond the attitudes of President Donald Trump's administration and harkens back to post-Katrina New Orleans.
"The federal government is allowing corporate vultures to take advantage of this humanitarian crisis to swoop in and profit from the disaster," said Figueroa. "From privatizing its power grid and schools, to selling off public land at bargain basement prices, the government is having a fire sale on the island without any thought of the impact for the Puerto Rican people."