Dr. Price M. Cobbs, psychiatrist who co-authored 'Black Rage'
Herb Boyd | 7/19/2018, 11:30 a.m.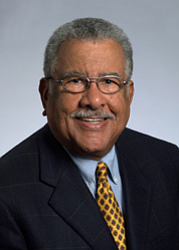 There is no need for years to pass to enshrine Dr. Price M. Cobbs, who died June 25 in Philadelphia, where he had traveled to his grandson's high school graduation. He was immortalized by the publication of "Black Rage," a book he co-authored with fellow Black psychiatrist Dr. William H. Grier. The book, published in 1968, came at a most propitious time, as I noted in the obituary of Dr. Grier, who died in 2015, with the nation seething with urban revolt, racial tension and general political chaos, after the assassination of Dr. Martin Luther King Jr.
"Black Rage" captured the essence of the deep-seated feelings of African-Americans, who expressed their discontent in a number of urban uprisings. "For a Black man in this country, it's not so much a matter of acquiring manhood as it is a struggle to feel it is his own," the authors wrote, although their assessment of the racial animus extended to Black women as well.
Although Cobbs died in Philadelphia, he was a longtime resident of San Francisco, with a reputation that reached well beyond both cities, touching millions who praised his insight and the time he and Grier invested in delving into the mental and psychological impact of racism.
In 2006, during an interview on NPR, Cobbs explained the process he and Grier used in probing their patients, which they did systematically, talking about the anger that bubbled up inside of them. He said, "…We were then able, through a very big study of the Black experience at that time…to put our finger on…this anger," which they accurately predicted was going to erupt.
Cobbs was born Nov. 2, 1928, in Los Angeles. His father was a doctor and the family migrated to California from the South. Price was the youngest of three children and the last surviving sibling. A voracious reader, particularly of African-American literature, he graduated from Jefferson High School in 1946 and began studying at UCLA the same year. Later the transferred to the University of California at Berkeley, but dropped out to join the Army. He did one tour in Germany before returning to Berkeley, graduating in 1954.
Four years later he earned his M.D. in Psychiatric Medicine from Meharry Medical School. In 1963, he became an assistant professor of psychiatry at the UCSF Medical Center. Two years earlier, he and his wife and two young children had moved into Daly City's Westlake neighborhood in San Mateo County, where they encountered some of the racism he had heard about from his patients. Even more so, there were the threats and the intimidation from neighbors that became more violent when a rock was thrown through a window. Amid a growing hostility, they eventually settled in San Francisco, which would be their permanent residence.
In 1966, he was certified and began building his practice from referrals by local doctors and hospitals. With the arrival of the Civil Rights Movement, Cobbs' practice increased when more patients suffering from the stress and dangers of the movement sought his consultation and treatment.