Smallest Mollusk Museum comes to NYC Health + Hospitals/Lincoln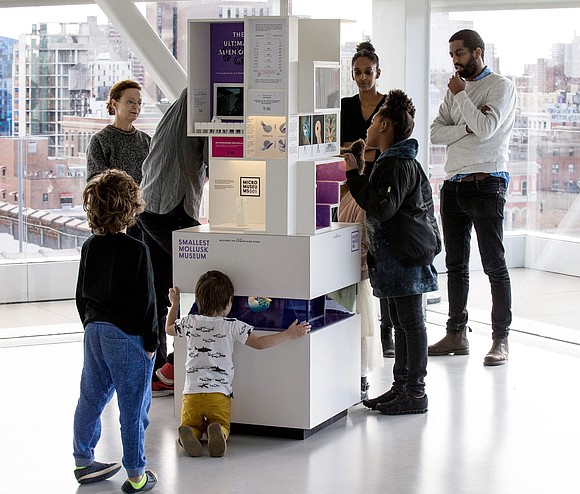 Health + Hospitals/Lincoln announced today the temporary installation of what is being called the world's Smallest Mollusk Museum, located in the hospital's front lobby for patients, visitors and staff to enjoy. MICRO partnered with Science Sandbox to bring this captivating tiny science museum to the South Bronx hospital.
About the size of a refrigerator, the science museum takes visitors on an adventure through the past 650 million years of life on Earth and is packed with 15 exhibits on natural history, including two miniature movie theaters, a holographic aquarium and the world's first 3D-printed octopus brain. Accompanied by a free online book and audio tour, the Smallest Mollusk Museum is full of stories that explore the biology of our slimy sidekicks the mollusks, sparking delight in kids of all ages.
The Smallest Mollusk Museum was built by MICRO, a nonprofit whose fleet of tiny museums engage communities in conversations about the natural world, and is supported by Science Sandbox, an initiative of the Simons Foundation dedicated to the sciences.
"Curiosity, questioning, experimenting. All these things are fundamental to innovating and moving the boundaries of science," said Milton Nuñez, CEO of NYC Health + Hospitals/Lincoln. "Our patients, families and visitors absolutely love the exhibit."
"The NYC Health + Hospitals/Lincoln community is an important part of the South Bronx, and we're delighted to become a part of it," said MICRO's co-founder Charles Philipp. "The Smallest Mollusk Museums are places where families get to step out of their normal days for a moment to connect, play and explore. It's a small thing that can make a big difference in the way people feel."
Developed in collaboration with more than 30 scientists from institutions such as Stanford University, the Hebrew University of Jerusalem, MIT and the University of Oxford, the Smallest Mollusk Museum will serve as an enjoyable gathering place for families and staff in the NYC Health + Hospitals/Lincoln community over the summer.
NYC Health + Hospitals/Lincoln, located at 234 E. 149th St. in the Bronx, is a 362-bed, Acute Care Level 1 Trauma Center with the busiest single site emergency department in the region. Recognized as a "2013 Top Performer on Key Quality Measures" by The Joint Commission, receiving top grades in Leapfrog Scores Safety in 2015 and 2017, the hospital emphasizes primary care and specialty medicine and uses the latest advances in medical science. It has designations as a Breast Center of Excellence, Breast Imaging Center of Excellence, Diabetes Education Center of Excellence and others. Lincoln's Primary Stroke Center has The Joint Commission's Gold Seal of Approval and the American Heart Association/American Stroke Association's Gold Plus and Target Plus Honor Elite awards. The hospital is a member of the NYC Health + Hospitals, the largest public health care system in the nation, serving more than a million New Yorkers.
MICRO is a nonprofit building a fleet of 6-foot-tall science museums specifically designed to be installed in venues such as health centers, hospitals and care facilities. MICRO's fleet of award-winning museums expand access to science, creating conversations that everyone can join. For more information, visit www.micro.ooo or follow @themicromuseums on Twitter, Facebook and Instagram.