Classical avant-garde composer Julius Eastman
Herb Boyd | 3/1/2018, 11:50 a.m.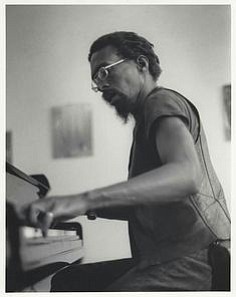 In last week's classroom, we featured the relatively unknown composer and pianist Florence Price. Equally unknown, except to the real cognoscenti of classical music, is Julius Eastman. Once you hear any of Eastman's music—and he was a prolific composer, penning a trove of minimalist pieces that were often sustained by a seemingly endless repetition—you will find it unforgettable. A recent announcement that the classical music publishing house G. Schirmer will be restoring, reconstructing, publishing and promoting Eastman's music—much of it rediscovered after having been considered lost—will no doubt bring him out of obscurity.
Born Oct. 27, 1940, in New York City Eastman was raised in Ithaca, N.Y. by his mother, Francis Eastman. There is no mention of his father in the available biographies and articles about him, indicating that his mother raised him and his younger brother, Gerry, on her own. He began seriously studying the piano as a teenager and later as a student at Ithaca College.
After completing the courses at Ithaca and seeking a more challenging curriculum, Eastman transferred to the Curtis Institute of Music in Philadelphia, which was well-known for the rigor of its courses and the world-class musicians who refined their skills there.
He studied piano with Mieczyslaw Horszowski, who had one of the longest careers in the history of the performing arts, and composition with Constant Vauclain. It was perhaps Vauclain who convinced Eastman to change his major from piano to composition.
Even so, the piano remained his principal instrument and shortly after graduating from Curtis, he made his solo debut in 1966 at Town Hall in Manhattan. Besides a formidable pianist, Eastman possessed a mellow baritone voice and it was showcased at several concerts and on recordings, particularly on "Eight Songs for a Mad King," in 1973 in a Nonesuch recording by British composer Peter Maxwell Davies. There were also concert performances at the Attica Correctional Facility, before and after the uprising there in 1971.
The recording gave Eastman wider exposure, and soon he was collaborating with Lukas Foss. Their combined talents were featured with the Brooklyn Philharmonic.
A series of concert tours followed, but most of his time was now devoted to his compositions and they came in rapid succession. Fifteen of his works were performed by the Creative Associates, and listeners were given an opportunity to experience Eastman's venture into post-minimalism. His style, however, did not conform strictly to the precepts of such music because his, for the most part, was uniquely extended by elements of popular music.
When he was not on tour or deeply involved in composing, he was in the classroom teaching theory and composition at SUNY Buffalo. In 1975, after a controversial performance of John Cage's "Songbooks," he left Buffalo and returned to the city of his birth.
Back in New York City, Eastman found a comfortable environment in the Village, where his homosexuality was accepted, even if his music was shocking to many of the other avant-garde artists. The titles alone were often provocative and startling, such as those of three of his early pieces: "Evil Nigger," "Crazy Nigger" and "Gay Guerilla." They were composed for four pianos, and at least two versions of the recordings can be found online.