Ethnic cleansing of Black community tribunal report-back
Amadi Ajamu | 3/15/2018, 5:22 p.m.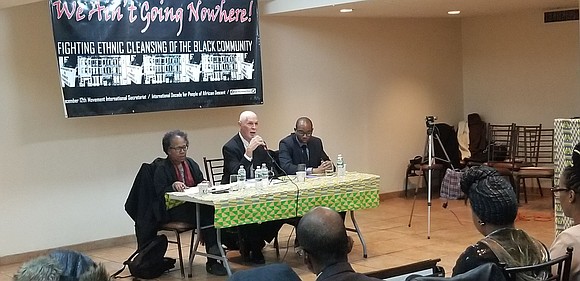 Saturday, March 3, the December 12th Movement International Secretariat held a historic, citywide tribunal/hearing on "We Ain't Going Nowhere! The Ethnic Cleansing of the Black Community." The Bedford Stuyvesant Restoration Corp. community room was filled to capacity with organizers, activists and residents eager to give expert analysis and testimonies to work on a plan of action in resistance to the ethnic cleansing—forced displacement of Black people in New York City and cities throughout the country.
International human rights attorney Roger S. Wareham chaired the proceedings, and the presiding panel of three distinguished jurists included Victor Goode, Esq., professor at City University of New York School of Law and former executive director of the National Conference of Black Lawyers; Joan Gibbs, Esq., former general counsel for the Center for Law and Social Justice at Medgar Evers College; and Alfred Toussaint, Esq., program manager of CAMBA Legal Services, Housing Unit.
Wareham gave an overview of the human rights work the international secretariat has done since 1989 in the United Nations Human Rights Council, World Conference against Racism 2001, the U.N. Working Group of Experts on People of African Descent and the International Criminal Court.
"These tribunals are the backbone of the documentation that allows us to take our issues to the international arena for Africans in the U.S., on the continent and throughout the Diaspora," said Wareham. "Gentrification is ethnic cleansing, and ethnic cleansing is a component of genocide, a crime against humanity."
He explained, "The U.N. defines ethnic cleansing as 'rendering an area ethnically homogeneous by using force or intimidation to remove from a given area persons of another ethnic or religious group.'"
He stressed the importance of understanding the "all-sided attack [that] Black people in the U.S. are under in the context of a U.S. economy [that] no longer has the need for our surplus labor and can only profit from the slave labor of incarcerated Black folks."
Lead jurist Goode's opening focused on the language of ethnic cleansing and the necessity of its inclusion in the dialogue. "Many of you have heard the term ethnic cleansing before, but you probably heard it most often in relation to situations of war or warlike conditions that displace people," he said. "But part of the importance of today's presentation is the recognition that ethnic cleansing is not relegated to situations of warfare, nor is it relegated to outright violence. In the U.S. we look primarily to our state laws and federal laws. However, those of us in the African-American community must recognize there are other laws that govern both our own lives and the conduct of governments and agents of governments. Those are international laws."
During the afternoon compelling testimonies were offered. Charles Fleming spoke on the U.S. history of white race riots and attacks that forced Black people to move. "In cities including Atlanta, Ga., Tulsa, Okla., Chicago, Ill., Rosewood, Fla., Washington, D.C., Knoxville, Tenn., New York, N.Y., East St. Louis, Ill. and others [where] white citizens have attacked Black citizens, their homes and their businesses in an effort to denigrate, punish and marginalize their elevation and dignity," he said. "Note should be taken that often city employees, police organizations and officials were complicit in the offenses, thus influencing the duration and intensity of the harm done to Blacks."