Afffair's glamorous spring '19 styles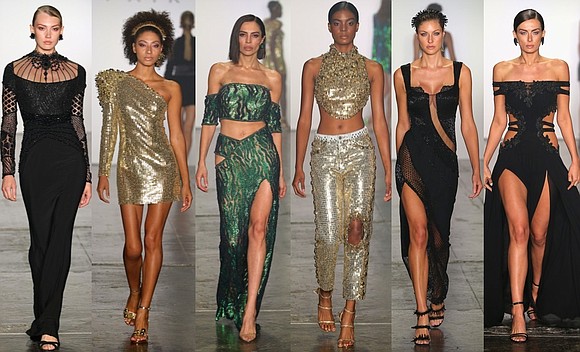 By RENEE MINUS WHITE
Fashion & Beauty Editor
At the Industria venue in New York City, Azerbaijani designer Rufat Ismayil made his New York Fashion Week debut and introduced a fabulous collection for the label Afffair. The theme was "Fashion Beyond Continents, the Land of Fire." As the first designer to represent his home country at NYFW, Ismayil is the ambassador of Azerbaijani fashion. His goal was to introduce his haute couture looks to an American and international audience. The looks are feminine, remarkable and memorable.
As each of his intricate designs hit the catwalk, the audience applauded. There were luxurious materials such as crepe chiffon, silk, stonewashed silk, as well as semiprecious gemstones and other embellishments that embody the feel of Afffair's modern, maximalist feel. For the spring/summer 2019 season, the label chose to use gold, black mixes, emerald and denim, with accents of semiprecious gemstones in natural tones.
In details, Afffair's collection was enhanced with daring cutouts, plunging necklines and sexy luxurious accents. Some embellishments line the waists of outfits, and other touches created fashion statements with bejeweled shoulder pads that stood out on select styles. The brand continues to be inspired by women who are both sophisticated and powerful, yet very feminine and desirable. On the runway, the models were magnificent, stepping in Afffair's ensembles. "Be fearless in the pursuit of what sets your soul on fire," advised Ismayil.
Afffair is an international clothing brand that's dedicated to creating elite, elegant, ready-to-wear with a hint of couture.
Born in 1981 in Baku, Azerbaijan, Ismayil—founder and creative director of Afffair—offers the vision of a talented designer and garment maker. He had an interest in fashion design at an early age and decided to move to Istanbul to launch his label. One of the most important features of the brand is that their garment production heritage makes it possible to control the value chain, from the creative process to designing and production. Their clothes are art pieces.