Three book trees felled
Herb Boyd | 1/10/2019, 1:42 p.m.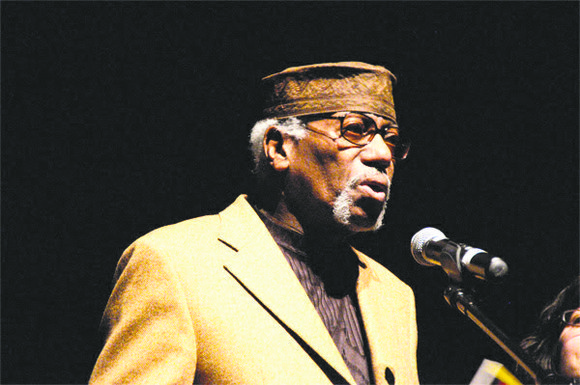 With the calendar about to flip and a new year dawning, it was time for some house cleaning, time to clear a veritable forest of book trees making the path to the computer all the more challenging. During a recent trip to Detroit, I dropped by the Charles Wright Museum of African-American History to chat with my friend Charles Ferrell, who produces some of the most enlightening political and cultural programs in the nation.
On tap that afternoon was the poet and activist Marvin X, and he gifted me with his latest book, "Notes of an Artistic Freedom Fighter Marvin X" (Black Bird Press, 2019). After his opening remarks in which he let the audience know that he was well aware of Detroit's prominence in the Black Liberation struggle, ticking off names such as Elijah Muhammad, Malcolm X, the Bogges, General Baker and Imari Obadele, he read one of his favorite pieces. It was compelling, but my preference from a long list of essays was his review of the "Black Panther" film that still had traction.
"While the film is a political disaster by projecting African royalty with its tainted past and/or present, those enamored of African culture will enjoy a boost of cultural consciousness," he observed. "We Africans are a beautiful people, a cultured people, a people of genius in science and technology. If 'Black Panther' replaces sagging pants with dashikis, surely, the film must be applauded.
"If it forces women to throw off their wigs as the woman did in the film, it must be applauded. The music, the chants, the communal dancing, the most colorful costumes and traditional ritual face makeup, should help Africanize a starving population of North American Africans. The technology seemed excessive, although we need to see African people utilizing science, technology, artificial intelligence, time travel."
This kind of balance pertains in the book, although the bulk of his analysis leans perceptibly to keeping the Black Arts Movement alive, and that makes sense for someone who was/is a vital component of its maintenance.
Later that evening in Detroit, my lifelong comrade Ron Lockett took me to Trinosophes, a club near downtown where pianist Rod Williams was fronting an ensemble. Seated near me was Carole and Bill Harris, and like Marvin, I was given Bill's latest book, "I Got to Keep Moving" (Wayne State University Press, 2018). It's a collection of 25 short stories that are necklaced in a fashion resembling Jean Toomer's "Cane," and they resonate with the same passionate urgency and cultural integrity. Reading the first story reminded me of Marvin X's description of coming of age in Fresno, Calif. The people very much resemble the inhabitants of Harris' mythical and at times mystical homelands in Alabama.
The folk element is redolent as Harris introduces a number of residents who are reluctant to recount the atrocities of their past or they have deliberately put them into the deepest recesses of memory. But Harris is not silent; he speaks for them with that same poetic voice that is often so commanding in his plays. "It was in our ways of doing, in front of them," he said of the collective survival of the folks against the forces of denial and racism. "Our walking, our wearing, our working that sprouted from the seeds of our need to air our common yearnings and have them recognized and welcomingly accepted and understood as useful, whether any or all of those things were through strength or by being sullen, daring, surly, dragging or through shared wisdom or charms, it gave us confidence in ourselves and became storied examples in our ability to have an inside self, and therefore a belief in our spirit to continue."