WBAI back on air with local control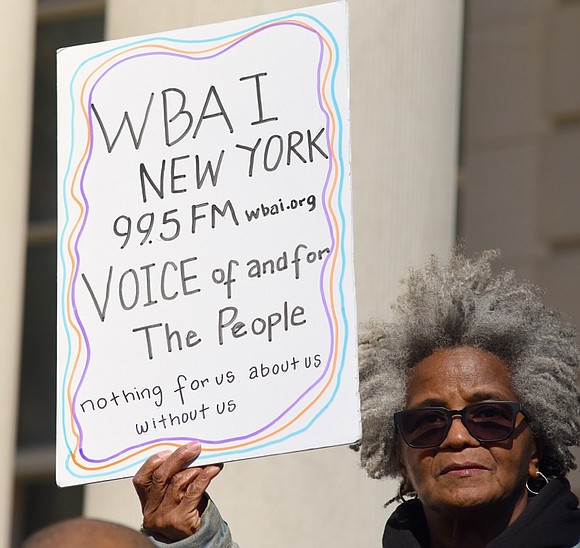 "We are back unapologetically with more radical, cutting-edge programming," WBAI radio (99.5FM) General Manager Berthold Reimers said at press time this week.
At midnight Wednesday, Nov. 6, 2019, embattled "progressive" New York radio went back on air with local control, by court order of NYS Supreme Court Judge Melissa Crane.
The restoration of live local broadcasting, access to their website, archives and live stream came after a month of legal wrangling in the courts.
Earlier this month on air hosts and staff at the Cobble Hill, Brooklyn studio offices were emailed a statement by the Pacifica Foundation saying: "Due to ongoing and continued projections to further financial losses at WBAI, local operations are being discontinued as of Oct.7, 2019." Doors were locked, studios rendered unusable, and access denied. Four weeks of court action and activist
pushback court victories, appeals and counter appeals ensued.
"The return of WBAI to local control shows you the power that a progressive multi-ethnic and multi-racial coalition standing united on the right side of history can accomplish in a City like New York," said Black Star News host Milton Allimadi.
Early on Thursday morning, Nov. 7, 2019, WBAI hosts Wuyi Jacobs and Sally O'Brien confirmed to the Amsterdam News that the station was back on air though the fight was not yet over and appeals were expected. Hosting shows immediately on Thursday morning were Wuyi Jacobs, Mimi Rosenberg and Milton Allimadi.
Afrobeats Radio Executive Producer and host Wuyi Jacobs said, "It's great to have WBAI back in local management hands and local programing back on the air, but the crisis is not over until the threat by some to sell the historic 99.5 signal is removed. And more so, there is plenty of work to do to get WBAI back to speed. I call on listeners and members, producers and management to rise to the occasion; it is time to reinvent a new WBAI to face the challenges of our time, with exciting new possibilities in programming and community engagement."
The day local broadcasting resumed, Education at the Crossroads producer and host Bashir Mchawi posted on Facebook, "While still in a fragile state, internal warfare has broken out at WBAI (again). Whether WBAI survives or not is up to all of you. With the current programming crisis caused by no news department, constant blabbing about fundraising and programs piped in from the West Coast, I can understand all of the people who have turned their radio dial to other stations. How about picking and choosing? There are still some good programs on BAI. Select a few programs to listen to in your car, at home, on your smartphone or tablet, on your computer…you can even retrieve programs from the archive at wbai.org. For WBAI (99.5 FM) to stay alive, the station needs you. My current program, Education at the Crossroads, began in November of 1996. It will be 17 years at the end of the month! There is now not a single Black owned FM radio station in New York. We need access to the airwaves. WBAI is just about all we have. Select a couple of programs to listen to and tell a friend or two about WBAI."