International support grows for fired African Union ambassador Dr. Chihombori-Quao
KAREN E. QUINONES MILLER | 10/24/2019, 1:33 p.m.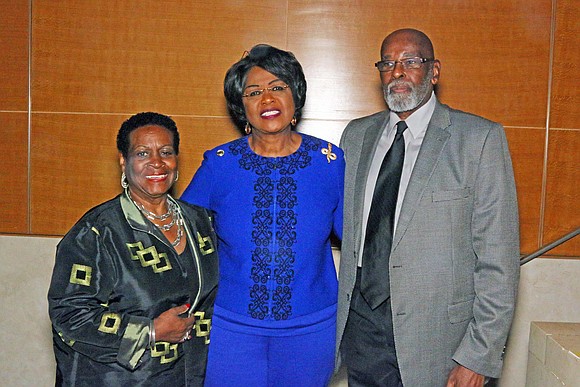 On Oct. 7, the AU notified Dr. Arikana Chihombori-Quao, the African Union's ambassador to the United States, that her services would no longer be needed.
Her sudden removal has been covered in the Black international press and all over social media, for a couple of weeks, and the outrage has been palpable.
The abrupt dismissal of another ambassador has many in the African diaspora up in arms.
Located in Addis Ababa, the African Union is an organization consisting of 55 African countries. Founded in May 2001 to replace the Organization of African States, one of AU's stated goals is "to establish the necessary conditions which enable the continent to play its rightful role in the global economy and in international negotiations."
H.E. Moussa Faki Mahamat, chair of the AU, wrote Chihombori-Quao a letter stating: "I have the honor to inform you that, in line with the terms and conditions of the service governing your appointment as Permanent Representative of the African Union Mission to the United States in Washington, D.C., I have decided to terminate your contract in that capacity with effect from Nov. 1, 2109."
But no reason was given as to why Chihombori-Quao was being dismissed. 
The AU has ignored countless inquiries as to the reasoning behind the dismissal, but her supporters say they know why the organization wanted her gone. Her strong stance against former colonial powers who still prey upon Africa to this day.
Supporters such as Jerry Rawlings, the former president of Ghana who, upon learning of her dismissal tweeted: "The dismissal of Arikana Chihombori-Quao, AU ambassador to the United States raises serious questions about the independence of the AU. 
"For someone who spoke her mind about the detrimental effects of colonization and the huge cost of French control in several parts of Africa, this is an act that can best be described as coming from French-controlled colonized-minds."
Dr. Leonard Jeffries, long time Pan-Africanist and former professor of Black Studies at the City University of New York, agreed. "She spoke too much truth. That was it. She exposed too much, and it became too real."
When Jeffries, uncle to U.S. Rep. Hakeem Jeffries, heard the AU was spreading rumors about Dr. Chihombori-Quao in an attempt to justify the dismissal he simply scoffed.
"She's a woman of integrity who has money in her own right. She's not stealing money to buy some Gucci bag."
Dr. Chihombori-Quao lived the early part of her life in Zimbabwe, but emigrated to the U.S. in 1977. There she earned a master's degree in general chemistry, a degree in organic chemistry, and a medical degree from Meharry Medical College in Nashville, Tennessee. She moved to New York City and practiced medicine for three years, before returning to Murfreesboro, Tennessee to become founder and CEO of Bell Family Medical Centers. 
After joining the AU in 2012, Chihombori-Quao became the international chair of the African Union-Diaspora African Forum Americas. In this capacity she advocates for Africans and friends of Africa to participate in the development of Africa.