Activists and elected officials question NYPD's recent social distancing enforcement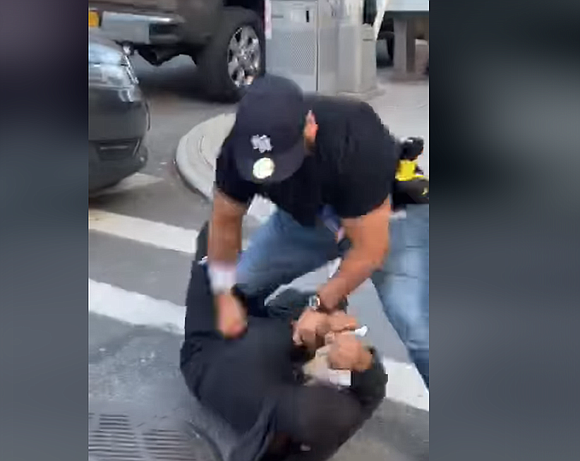 Last week, a group of Orthodox Jewish people gathered at a lot located at 55th Street between 14th and 15th avenues in Crown Heights to celebrate Lag B'Omer, a Jewish holiday. There were dozens in the area dancing, with loud music blaring and no masks being worn. They were openly flouting social distancing rules. Police officers eventually showed up and cleared the area without incident.
Meanwhile, police have greeted those social distancing in Black and Brown neighborhoods with violence. Two incidents in Brooklyn resulted in violence, with one man being punched in the face in East New York, and another incident in a predominantly Black area of Brooklyn that left one man unconscious. Three men were recently arrested in Queensbridge during a vigil for a local rapper.
On the Upper East Side, a man was arrested for violating social distancing laws while people around him, not abiding by the rules, watched. In the video of that incident, the man was body slammed. The incident happened as bars and restaurants around the area were open with patrons inside.
Police say they're trying to protect New Yorkers and enforce social distancing mandates. Some believe it's just a brand update for broken windows policing.
Since COVID-19 social distancing rules have gone into effect, the main job of the New York City Police Department is to enforce those rules while fighting crime. According to recent police data, however, certain communities have fallen victim to more enforcement than others.
According to recent police data, more than 90% of the people arrested regarding social distancing rules were Black and Latinx, and 82% of those who received summons for violations were Black or Latinx. Between March 16 and May 5, police issued 374 summonses for "violations of emergency procedures and acts liable to spread disease." Three-hundred and four of those summonses went to Black and Latinx people.
Loyda Colon, a leader of Communities United for Police Reform (CPR) and co-director of the Justice Committee, said the numbers are not surprising.
"The stark racial disparities reflected in the initial release of NYPD social distancing enforcement data confirms what we already knew about police officers brutalizing Black New Yorkers and other New Yorkers of color during the COVID-19 pandemic," they said. "Mayor de Blasio must take action today to remove the NYPD from social distancing enforcement. The fact that de Blasio has refused to insist on unpaid suspensions and firing of abusive officers has created a dangerous situation where officers who abuse their authority know their jobs are safe and that they won't be held accountable by the department."
At a media briefing last week, Police Commissioner Dermot Shea told New Yorkers that the force has made fewer arrests than they usually do and handed out fewer summonses than normal. Yet, he also admits to being disappointed by the videos of social distancing enforcement against Black and Brown people. Shea said he found them "disheartening" and "disturbing."
"When you have a situation—if the police are wrong in an instance, whether it's on one of these videos or not, there has to be accountability," said Shea. "I think there has to be transparency and that's my job as the police commissioner to make that happen. And quite frankly, if that's not happening, I shouldn't be in this position. We also have to recognize that police officers are human. They are you and they make mistakes, they're not infallible."