A second impeachment of Trump looms
Herb Boyd | 1/12/2021, 1:02 p.m.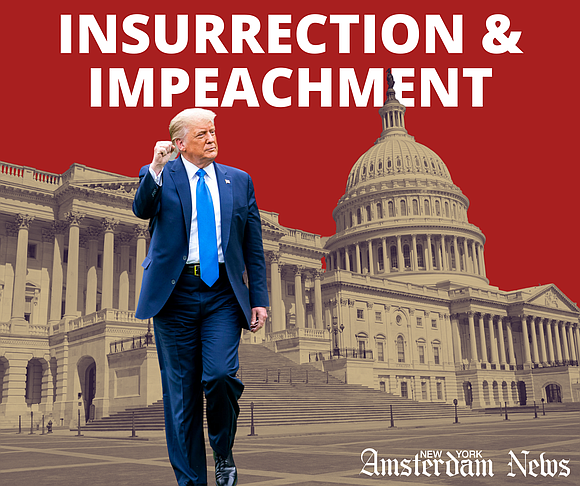 Three things stand out in the House Democrats article of impeachment against Trump on Monday, Jan. 11: he engaged in high crimes and misdemeanors by inciting violence against the U.S.; his repeated claims that he won the election by a landslide and his comments to supporters that they should "fight like hell" to salvage their country; and his prodding of Georgia's Secretary of State Brad Raffensperger to find enough votes to make him a winner in Georgia.
Equally significant in the article is the concern that if Trump remains in office he is "a threat to national security, democracy and the Constitution," and the damage he has already done to each of these vital American entities.
Clearly a motivating factor in the speed to which the House moved on this matter is directly related to the insurrection at the Capitol Building last week that left five casualties and a number of injured officers and marauders. Several protesters have already been arrested and there are certain to be more as the investigation continues, particularly of those who occupied the Rotunda and participated in vandalism.
On Tuesday a vote is slated to formally call on Vice President Pence to invoke the 25th Amendment, declaring Trump unfit for office and then proceed to begin debate on the impeachment resolution Wednesday morning. The Republicans, like Pence, have already objected to the invoking of the Amendment. However, at least a dozen Republicans, including Liz Chaney of Wyoming, are considering joining the Democrats to impeach Trump.
If the second impeachment of Trump is anything like the previous one, it will be a long drawn out affair with only a week remaining in Trump's term of office. Moreover, if they vote to impeach him there remains the Senate trial and that is encumbered by a chamber that is not even in session.
What it amounts to is merely to place a stain on Trump's reign and less to do with actually removing him from office which will occur Jan. 20. And in preparation for that inaugural day, more than 15,000 National Guard troops may be dispatched to the nation's capital. There is also a grave concern about the country's state capitals and possible demonstrations.
Rep. Steny Hoyer of Maryland, places the impeachment in context, saying that it is not a matter if it can pass the Senate, "The issue is, we have a president who most of us believe participated in encouraging an insurrection and attack on this building, and on a democracy and trying to subvert the counting of the presidential ballot."
An additional by product of motives by the attackers was to push the victory in Georgia from the front pages in which the Democrats gained control of the Senate with the election of Jon Ossoff and Raphael Warnock.
Meanwhile, Tuesday it was reported that Trump is on his way to the U.S./Mexico border, much to the consternation and disgust of civil and immigrant rights groups. The visit was condemned and viewed as a "reckless and dangerous political stunt" that may foment the violence that occurred last week at the Capitol Building. "Don't bring your mess to Texas, President Donald Trump," an editorial in the Houston Chronicle proclaimed.
Biden has already made it known that he will stop construction of the wall after he assumes office, and that will leave Trump's monument half finished, like so much of his four years in office.