Jitu 'Big Black' Weusi passes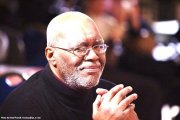 The best of the People's Republic of Brooklyn came out to pay tribute to Jitu "Big Black" Weusi this past weekend.
The formidable, seemingly 9-feet-tall career educator, activist and family man died on May 22.
His family is asking the community to "Come out to honor, celebrate and remember him" during a weekend filled with events in his name.
Folks best trust and believe that, that was what went down at the "Sitting" Saturday at Weusi's beautiful For My Sweet jazz/cultural spot in Bed-Stuy on Harriet Tubman Boulevard (aka Fulton Street).
Dr. Leonard Jeffries always says, "When an elder dies, it is like a library burning down." Well, the passing of Weusi is like the the burning of the Ancient Library of Alexandria in Egypt.
"We lost a good friend, our comrade in struggle, a master organizer [and] a superb institution builder who had an undying love for Black people. Brother Jitu Weusi was an unassuming, humble, legendary icon. Rest in peace, 'Big Black,' for a job well done. We will continue the work," said elected power couple Councilman Charles Barron and Assemblywoman Inez Barron.
"Over the past 29 years, it has been my pleasure to share my husband with the thousands of people whose lives he has touched," Angela Hope-Weusi told the AmNews."Thank you all for the vignettes you have shared with me over the past week; these stories have helped me make it through the nights.
"In line with his energy and dauntless quest to educate, agitate and organize, I will be calling all the people who said 'Let me know if there is anything I can do.' I will call on you to join in the struggle for quality education, the struggle to make access to African-American arts and cultural presentations affordable, the struggle to bring political power to communities of color and the struggle to make our communities mentally and spiritually healthy. These are issues that Jitu worked feverishly to accomplish. These issues were his idea of pillow talk.
"Our family is creating the infrastructure for a scholarship fund in his name. So in lieu of flowers, please make a donation to the fund. In the spirit of Jitu and the principle of Ujima, cooperative work and economics, scholarships for one-on-one academic tutoring and one-on-one instruction for aspiring or emerging artists will be available. We will connect local students with community tutors and arts instructors," Hope-Weusi said.
Weusi was formerly known as Leslie R. Campbell. His family sent out his extensive bio, which is the stuff of urban legend. Born and raised in Brooklyn, N.Y., Jitu had many accomplished achievements in education, politics, activism, social justice and music. He began his career in education with the New York City Department of Education (DOE) in September of 1962 as a founding member of the African-American Teachers Association (ATA). He was widely known for his involvement in the Ocean Hill/Brownsville conflict that proved to be instrumental in bringing about changes nationwide in community control of public education. In the late '60's, Jitu left the DOE and opened the first Black independent private school for inner -city youth: Uhuru Sasa Shule ("Freedom Now School"). The school was one of the founding member schools of the Council of Independent Black Institutions, an international umbrella organization for independent schools.