An African "Sex and the City"
Cyprien Kodjo | 10/13/2014, 8:24 p.m.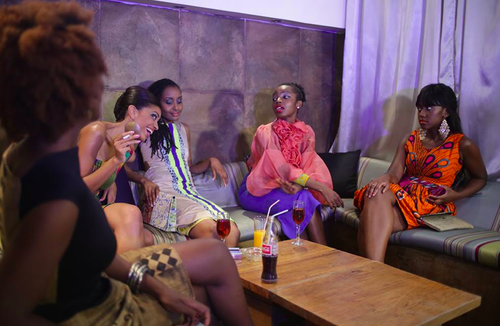 You know Hollywood and Bollywood and may have heard of Nollywood, Nigeria's film industry. But Nicole Amarteifio creator of the YouTube series "An African City," is on the cutting edge of Ghollywood, Ghana's Hollywood. To kick off City College of New York's lecture series that pays tribute to Chinua Achebe
Amarteifio spoke recently about her show—Africa's answer to Sex and the City. She was joined on campus by one of her leading ladies, Maame Yaa Boafo.
Amarteifio is one of a number of African intellectuals who will appear at CCNY in honor of Achebe, who spent time at City College before he died last year. The series is hosted by City College's Black Studies Program.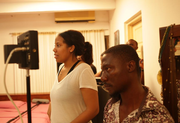 Raised in London and the U.S. by Ghanaian parents, Amarteifio studied at Brandeis University. While working on a master's degree in communications from Georgetown University, she became fed up with the stereotypes about Africa the media bombards us with—all famine, diseases and war. So she created "An African City" where women talk about their sexuality and sensuality. "It's a way for me to show you the other side that they don't show you," explained Amarteifio. "The African audience is happy about the series and as women they're talking about this stuff."
Caption: Creator Nicole Amarteifio at work on set.
Though proud of her Ghanaian heritage, she refers to herself as "Afripolitan." "We call my family a kind of united nations family," she said. "My uncle is married to a Japanese wife and white Americans [have married] into my family."
MaameYaa Boafo, who plays the character Nana Yaa, relates to the Afripolitan label. "I have a Brazilian sister and another one from the Democratic Republic of Congo," said Boafo. "I was born in Pakistan and raised in Sudan and Kenya, but I am a Ghanaian citizen."
Boafo came to the United States for college and grad school. She found the role four years ago through a Facebook post: "Casting Actress of Color." She went to the audition at Columbia University. Some of the actresses got their roles through networking; they went to school with Amarteifio, but Boafo had to audition.
To assure her show's authenticity, in 2013 Amarteifio, spent a year researching dating. Her characters also go back and forth between English and Twi, a language native to Ghana. With her show, she hopes Africans can see themselves and tell their own stories. For non-Africans, she aims to create connection and make them realize that they are other stories out there.
Sums up Amarteifio, "this is not supposed to be an autobiography, but I think reality is so much better than fiction."

The Chinua Achebe legacy series continues throughout the fall 2014 semester. "He has been a living legend who was just available to us even in the hallways," says Cheryl Sterling, director of the Black Studies program, about Achebe. "We must of course pay homage when he passes on."
Click here to watch "An African City."
CCNY's website has more information about the Chinua Achebe lecture series.