Eunice Hunton Carter, a unique attorney and crime fighter
Herb Boyd | 12/13/2018, 12:20 p.m.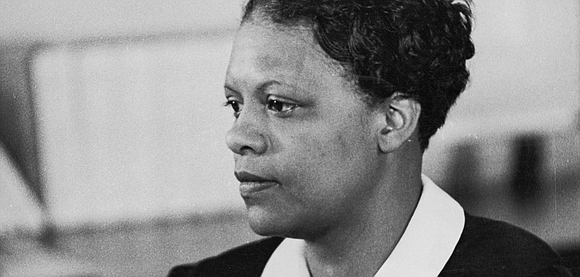 It was a pleasant surprise to learn that Addie Hunton, who I profiled in the Classroom two years ago, had a legacy that was prominently extended two generations. Reading a review of Stephen Carter's book, "Invisible," about his grandmother, Eunice Hunton Carter, I had no idea that Addie Hunton was his great-grandmother. Nor I was aware that his grandmother was such a significant public servant, so much so that she played a vital role as a prosecutor in the fight against organized crime and bringing the mobster Charles "Lucky" Luciano to justice.
Because I have not had a chance to read Carter's book, my research on his grandmother began, quite oddly, at the Mob Museum website. Eunice Hunton Carter is cited there because her of association with Luciano, and notes that she was born July 16, 1899, in Atlanta, Ga. After the race riot of 1906 in the city, the family moved to Brooklyn, where Carter attended public school. During her formative years, she also studied abroad in Strasburg, Germany. Her mother was there as a student at Kaiser Wilhelm University in 1909-1910.
Carter attended Smith College in Massachusetts, graduating in 1921 with both bachelor's and master's degrees. Consistent with a master's thesis, she immersed herself in the reform of state government in Massachusetts, and for more than a decade worked with family service agencies in the state. Despite the full-time employment, she found time to take classes at Columbia University.
In 1924, she married Lisle Carter, a New York dentist from Barbados, and three years later she was enrolled in evening law courses at Fordham University. She received her law degree from the school in 1932 and was admitted to the New York bar two years later. Besides private practice, she was actively engaged in community affairs.
Like the race riot in Atlanta, the 1935 riot in New York City had a direct impact on Carter and Mayor Fiorello La Guardia appointed her as secretary of the Committee on Conditions in Harlem. Later that same year, she was named by special prosecutor Thomas Dewey to the grand jury investigating the rackets and organized crime. She was the only African-American and only woman on the 10-member staff.
Carter's intimate knowledge of the underworld activities in Harlem, particularly those of the mob boss Dutch Schultz, made her an invaluable member of the team, and she was later instrumental in the downfall of Luciano, which brought wide recognition. "Carter meticulously built a case that led to raids of brothels in the city and, finally, the successful prosecution of Luciano, at the time the most powerful racketeer in the country," according to a citation in the online The Mob Museum. "Carter and Dewey established that prostitutes were required to kick back half of their earnings to crime bosses in exchange for legal representation—in effect, Luciano was profiting from prostitution. Luciano was sentenced to 30 to 50 years in 1936. (Luciano was released from prison and deported to Italy 11 years later in exchange for his help in preventing problems on the New York City docks during World War II.)"